Nikon EN-EL15 Dummy Battery
Why limit your camera trap battery life because your camera ran out of power? This dummy battery will let your Scout Camera Controller power your camera.
 *The Nikon D800, D810, and D850 all draw significantly more current than other models.  These cameras cannot be powered by a dummy battery when in silent mode or when the drive of the camra is set to continuous.   
Compatibility List: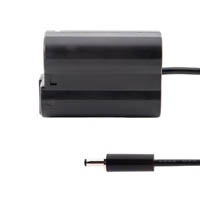 Nikon Z6, Z7, 1 V1, D7500, D7000, D7100, D7200, D800, D800E, D810, D810A, D750, D600, D610, D850