Scout CamBox MIC and USB Pass Through Kit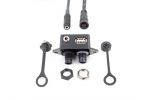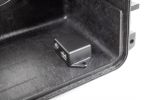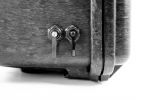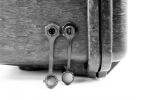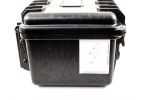 This kit provides a waterproof bulkhead to pass USB and Microphone signals in and out of the Scout Camera Box. Perfect if want to bury your Camera Box but still have access to the camera's USB Port. Also allows connection of the camera's microphone jack to an external Microphone. This kit includes:

- USB / MIC Connector Assembly
- 1 m (3 ft) Stereo 3.5 mm to 4 pin weatherproof locking cable
- 1 m (3 ft) Stereo 3.5 mm cable (for inside the Camera Box)
- Waterproof caps for both USB and MIC connectors.
- Template for locating and drilling holes in the Scout Camera Box

If this is item is purchased at the same time as the Scout Camera Box it will come installed.
If you already have a camera box you can find installation instructions here.

If you plan to use the USB portion of this pass through you will need the matching weatherproof USB Cable. This connector is too deeply recessed to use standard USB Mini cables. The sealed USB cable is not included.
You May Also Be Interested In: