Finally - a video light designed for camera trapping. Completely weatherproof, always ready, 3 months of battery life and wireless.
When using the LED light with the Scout Camera Box you can configure and test the LED through your mobile phone - ideal when the light is mounted up in a tree or in a hard to access location.
This LED was engineered to last. At 2000 lumens, a CRI of over 90, and a TLCI of over 91 it was designed for the professional videographer.

Includes:
Scout LED
Li-Ion Battery
Battery Charger - optional


Features
Scout Video LED
The Scout Video LED provides camera trapping video makers a weatherproof, wireless LED that is designed to be left in the field for months at a time. No more jury rigging automotive LED's with poor light quality and annoying flickering for your night time video making. Now there is a purpose designed flicker free LED video light with a TLCI of over 91 built for the job.
Scout LED Video Light Features
Adjustable output power - 1% to 100%
High quality, high efficiency LEDs, 2000 lumens of light at 100% brightness.
Flicker free video light.
Always ready - no need to send wake-up pulses.
3 months of standby battery life on included Li-Ion battery.
CRI > 90, TLCI > 91.
Heavy duty polycarbonate housing sealed with silicone o-rings.
Wireless interface to Scout Camera Box or Scout Sensors.
Configure through your mobile phone when used with the Scout Camera Box.
Ramp on and ramp off times user configurable.
Optional security bracket available.
Trigger via wire for use with other sensors with an optional cable.
External power jack if more battery life is required.
Integrated aluminum dual 1/4-20 tripod mount.
Mounting holes for light modifiers and filters.
Features all weather proof connectors.
Equipped with USB to facilitate configuration and firmware updates.
Over temperature protection.
The video below - captured by Roy Dunn - was illuminated with a couple of Scout LEDs. The LED's were configured to look like moonlight, they were mounted high in the trees with a power output setting of 35%. The video was captured in a 'Picture Profile' mode (like raw for photos), no color grading has been applied to this video.
The lion in this video is known as P30 and is part of the National Park Services study of Mountain Lions in California. With the sad demise of P47 to rodenticide, and the incredibly brave crossing of the 405 freeway by P61, P30 found himself being the new boss of the area. Here he is wandering his territory, and jumping a creek. When we first saw this clip we thought he had a full stomach, and indeed he did. His abdomen had 5 liters of blood in it, as a result of him also ingesting rodenticide. Sadly, P30, this gorgeous lion, was dead a few days later.
Sync the Scout LEDs to your video camera
Click images to enlarge.
Wireless Configuration with the Scout Camera Box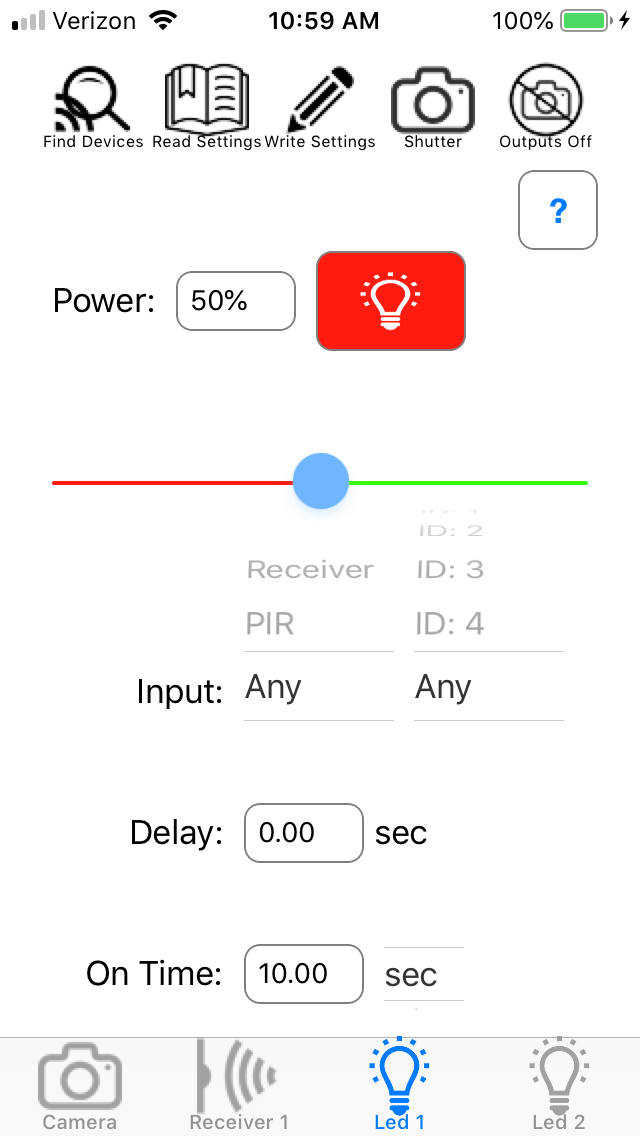 Preparing the LED for Wireless Operation
Before connecting to the Scout Camera Box with your mobile device, the LEDs (and the rest of the components) will need to be configured to all operate on the same wireless channel. This is the only setting that needs to be verified. All of the wireless devices used in the setup need to have the same wireless channel so that all of the devices can talk to each other. This includes the Scout Sensors, Camera Box, and all of the Scout LEDs. This setting can be found in the LED menu by going to System Settings -> Wireless Settings -> Channel. All devices are shipped with the wireless channel set to 15 from the factory.
LED Adjustments
Once the LED is configured as described above, use Wi-Fi to connect to the Camera Box. The Camera Box will go out and search for all of the devices on its wireless channel and they will appear as tabs in your Scout mobile app (see the image on the left). If you have three LEDs they will show up on three separate tabs. This will allow you to make power adjustments to each LED from your phone. To adjust the power simply slide the control to the desired setting. In addition to the power it is possible to change the hours the LED is active. This allows you to use your LEDs during the night only. Each LED can also be test fired independently by pressing the "Light Bulb" button. You can test all of the LEDs at once by interrupting the sensor and taking a test video clip.
LED Configuration Example - Sony Video
Camera Box Settings to Record Video with Sony A7SII

| #pics: | 1 |   |
| --- | --- | --- |
| Delay: | 2 sec | Give the camera time to wake up. |
| On Time: | 30 sec | Video clip length. |
| Off Time: | 10 sec | Camera shut down time. |
| Extend On: | Yes | If motion is detected extend record time. |
| Final Off: | Yes | Apply final off time even if the number of pics is 1. |
The Sony A7S series of cameras are extremely popular for camera trapping due to there exceptional low light performance. To Trigger these cameras to record video you will need the Sony Video Switch to send the proper commands to start and stop video through the multi-terminal port. For this setup the Camera Box (or sensor) settings for the camera will be:


In this case we would want to configure the LED for an On Time of 32 seconds. 32 sec comes from adding the delay time of 2 sec + the video record time of 30 sec. We also want to have an off time of 10 seconds with the "Extend On" option checked. If you don't account for the wake-up time and the extended on time it is possible for the LED and camera to get out of sync.
FAQs
How do I know when the battery should be charged?
Both the Scout LED and the camera controller have a battery voltage read out on them. If you are using the Li-Ion battery supplied with the LED the battery should be recharged when the voltage reads 13.5V or less. Keep in mind the number of charge/discharge cycles you will get out of a Li-Ion battery is dependent on how far the battery is discharged for each cycle. For example if you fully discharge (3.0V/cell or 12V pack voltage) your Li-Ion battery you can expect between 300 and 500 charge/discharge cycles from the battery before the end of its life. But if you discharge the battery to (3.36V/cell or 13.5V pack voltage) you can expect 400 - 900 charge discharge cycles from the battery. In short the more often you recharge the battery the more charge/discharge cycles you will get.
Why do I have 3 LED's but only one of them shows up in the Scout Camera Box mobile app?
This is caused by having all 3 of the LEDs set to the same wireless ID. If your LEDs have the same wireless ID the Scout Camera Box is not able to communicate with each LED independently, this means it cannot determine the number of LEDs correctly. Operating in this condition can also corrupt the LED settings as not all LEDs are guaranteed to get the command and control messages from the Camera Box. For proper operation it is important that all LEDs have a unique ID.
Can I enable the Scout LED without the Camera Box or Scout Receiver?
Yes, the Scout LED has a wired enable terminal that will respond to any active low signal. To connect the LED to your sensor you will need a
Sabre/Scout Aux Cable
.
Is it OK to paint the Scout LED?
Absolutely, the Scout LEDs are shipped black but it is often beneficial to paint them a desert tan or maybe even a camo scheme to blend in with your shooting location. The Scout LEDs will readily accept paints that are designed to work on plastics. We recommend the Rust-Oleum Painter's Touch 2X spray paint. It covers well and adheres well to plastic. There are three areas that need to be masked when painting, the vent that is between the two connectors, the lens opening for the LED's and the membrane with the buttons. The rest can be painted - make certain the caps are on the connectors! While we cannot accept returns if you paint your LEDs it will not affect your warranty.
Have additional questions about ordering and shipping?
Visit our general
FAQ
page.
Specs
Quick Specs
| | |
| --- | --- |
| Length | 131mm (5.16in) |
| Width | 123mm (4.83in) |
| Height | 143mm (5.64in) |
| Shipping Dimensions | 200mm x 200mm x 200mm |
| Weight | 1.14kg (2 lb 8 oz) |
Electrical Specs
| | | | | |
| --- | --- | --- | --- | --- |
| Specifications | MIN | NOM | MAX | UNITS |
| Input Voltage | 12 | 14.8 | 18 | Vdc |
| Input Current–Wake< LED off | - | 14 | - | mAdc |
| Input Current–Sleep | - | 0.7 | - | mAdc |
| Input Current–50% | - | 0.67 | - | Adc |
| Input Current–100% | - | 1.5 | - | Adc |
| Battery life–100% Power | - | - | 4.1 | hrs |
| Color Temperature | - | - | 5000 | k |
| Luminous Flux | - | - | 2000 | Lumens |
| Color Rendering Index (CRI) | - | - | 90 | typical |
| Television Lighting Consistency Index (TLCI) | - | - | 90 | typical |
| Real-time clock life without batteries | - | 16 | - | hours |
| Wireless Range | - | 15 | 30 | m |
| | - | 50 | 100 | feet |
| Operating Temperature | -40 | 25 | 70 | C |
| | -40 | 77 | 158 | F |
• 32-bit high performance low current ARM Processor
• OLED dot matrix display – great readability in direct sunlight!
• Wireless connectivity: Proprietary 2.4GHz
• Real-time clock for time-windowed triggering (two windows provided)
• USB for reprogramming
Support
How To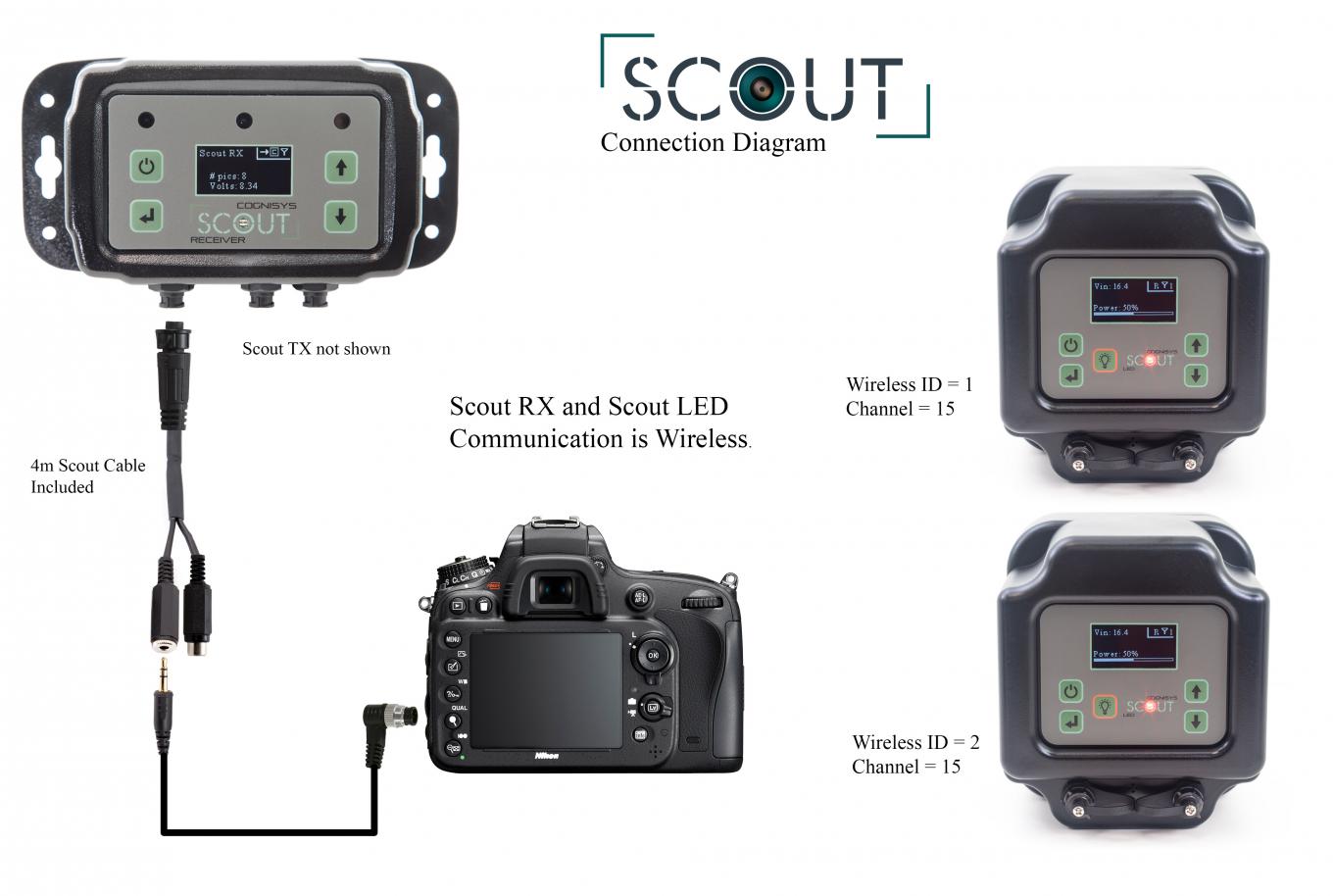 +
Scout LED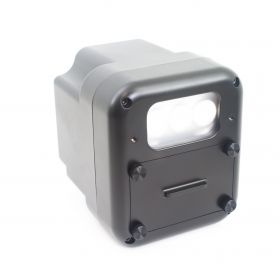 Scout LED
+
Scout to 3.5 mm Camera Cable
Scout to 3.5 mm Camera Cable
This cable is included with the Scout RX. If you need a replacement you can find it
here.
+
Shutter Interface Cable (RCA)
Shutter Interface Cable (RCA)
3.5mm Shutter Cable - This cable is included with the Scout Beam Sensor or Scout PIR. If you need just the 3.5mm shutter cable you can find it
here
+
Scout Trail Monitor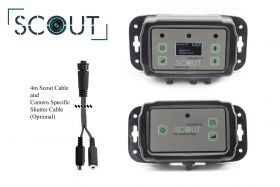 Scout Trail Monitor
Accessories
---
You May Also Be Interested In: