The repeater can be used to extend the range of your sensors to the Camera Box.


What's Included:
- Scout Repeater
Note:
If you already have one of our Li-Ion battery chargers you can just choose the stand-alone battery. If you don't, be sure to choose the battery kit with a charger.
Features
Scout Repeater
Use the Scout Repeater to get around obstacles between the Scout Sensors and the Scout Camera Box.
Some of our most enthusiastic customers for the Scout Camera Trapping system are natural history film-makers. When they set up a camera trapping system they go all out. A single "Camera Trap" could have several sensors and many cameras. Using many cameras allows them to create a seamless video scene of a subject from multiple camera angles. Multiple sensors are used to be able to trigger on the subject entering the scene from different directions. Often times when setting up elaborate camera traps like this they run into issues where a sensor needs to be behind a giant rock or tree to stay out of frame of all of the cameras. It is this scenario that led to the development of the Scout Repeater. The Scout Repeater will allow the Scout Camera Box to communicate with a Scout Sensor even if there is an obstruction or a long distance that would prevent normal RF communications between the sensor and camera box. Trees and rocks make great RF shields, the Scout Repeater helps get around them.
Scout Repeater Highlights
Fully weatherproof housing
Repeater Range - 100 ft.
Extends the range of Scout sensors for difficult terrain
Power with external lead acid battery for more capacity or back up power
Bi-directional communication with all sensors
Fully compatible with the Camera Box App
Perfect for difficult terrain that prevents wireless signals from reaching the Camera Box
Easy setup (Plug and Play)
Requires Camera Box software 1.0.05 or higher

Connecting the Scout Repeater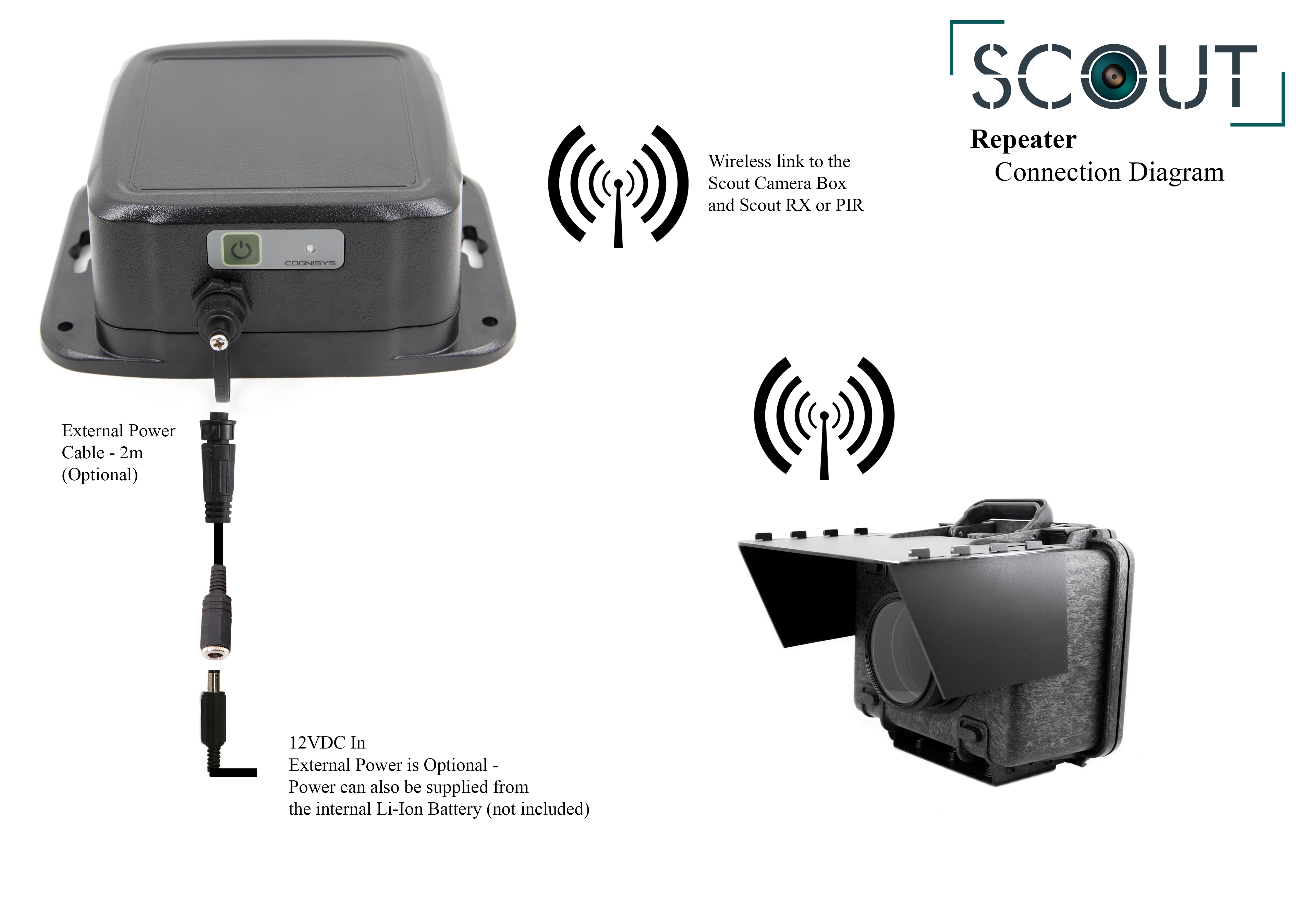 Reviews
Specs
Dimensions
| | |
| --- | --- |
| Repeater Dimensions - Including Mounting Flange (L x W x H) | 118 mm x 118 mm x 60 mm |
Electrical Specification Summary
| | | | | |
| --- | --- | --- | --- | --- |
| Specifications | MIN | NOM | MAX | UNITS |
| Operating Temperature | -40 | 25 | 105 | C |
| Input Voltage | 6 | 14.8 | 20 | Vdc |
| Input Current No Load - 12Vdc in | - | 492 | - | uAdc |
| Input Current No Load - 16.8Vdc in | - | 374 | - | uAdc |
| Battery Life (5200 mAHr Battery) | | 200 | | days |
| Wireless Range | - | - | 30 | m |
Support
Accessories
---
You May Also Be Interested In: