In stock
SKU
SCOUT_AUX_BOX_BNDL
This box has a wireless interface to the Scout Camera Box and will remotely power up video lights or other 12V loads. It holds a 5200 mAHr Li-Ion Battery (and will supply 12V - 16.8V to your lights). You can also use your own external 12V power source with the "Scout External Power Cable". Connect it to a video light with two wires and build a video camera trap with remotely powered lights.


What's Included:
- Scout Aux Box
- 0.5 m (3ft) Load Cable - 2 Pin Sealed Locking Connector to Wires
- (2) - Insulation Displacement Connectors (IDC)
Note:
If you already have one of our Li-Ion battery chargers you can just choose the stand-alone battery. If you don't be sure to choose the kit so you can recharge your battery.
Features
Scout Aux Lighting Box Features
Fully weatherproof housing
Wireless triggering from the Scout Camera Box.
Up to 5A Load - at 25C
Power with external lead acid battery for more capacity or back up power
Multiple Aux boxes can be used in each setup - run the same program or up to to 3 different programs
Easy 2 wire interface to load - IR or Standard LEDs
Allows complex wireless triggering options (for example):
- PIR #1 activates lighting bank on the left
- PIR #2 activates lighting bank on the right
- Receiver #1 starts video recording
- Receiver #2 takes several still photographs
Scout Aux Box Details
The Scout Aux Box gives camera trappers interested in creating video an easy way to power lights in the field. The Scout Aux Box uses a 5200 mAHr battery to turn on light or other load as commanded by the Scout Camera Box. It can also be powered with an external lead acid battery. The Aux Box is completely weatherproof just like the rest of the Scout products.
You can use more than one Aux Box in a setup if needed. The internal selector switch on the Aux Box tells it which Scout Camera Box auxiliary output configuration to use. If you have all of the Aux Boxes set to 1 they will all turn on and off simultaneously. If you have some set to position 1 and others at position 2 each of the Aux Boxes with the switch in position 1 will follow the configuration from Aux 1 in the camera box, while the Aux Boxes with the switch in position 2 will all follow the configuration from Aux 2 in the camera box. This allows complex lighting and triggering configurations.
Connecting the Scout Aux Box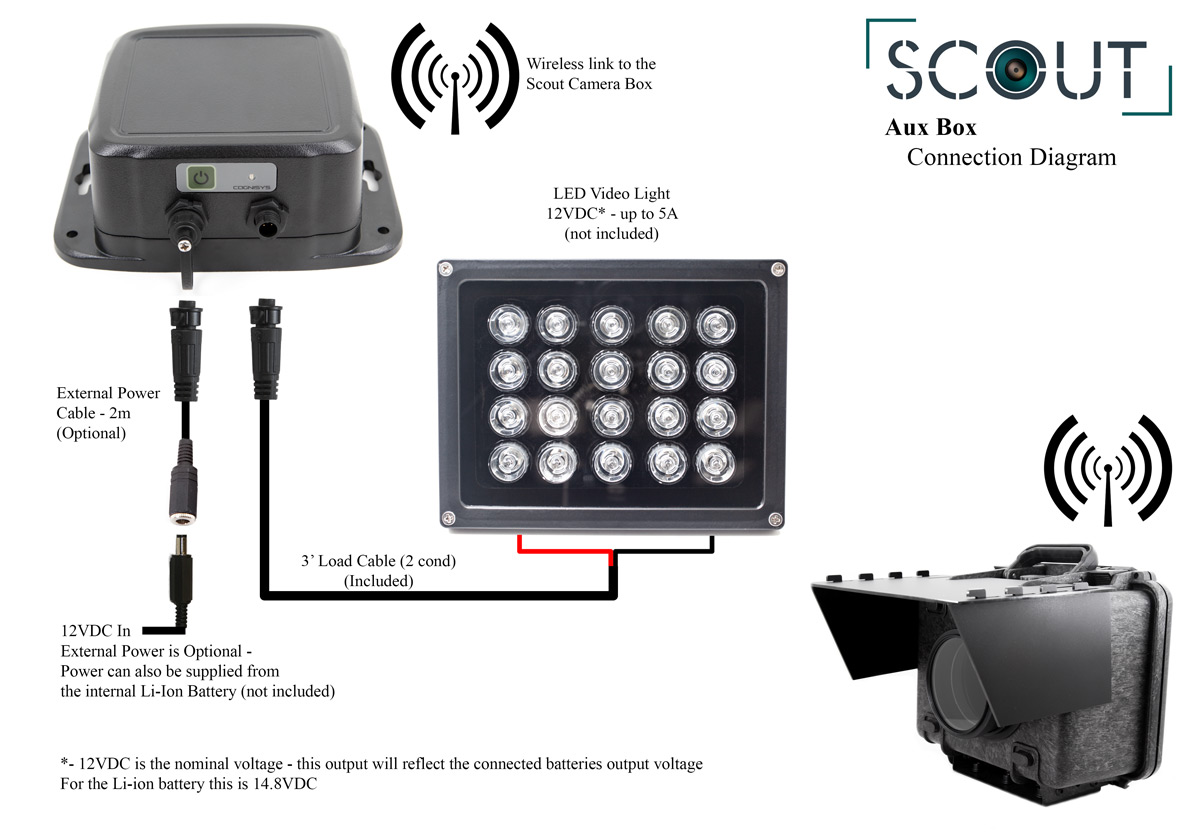 Connecting Multiple Loads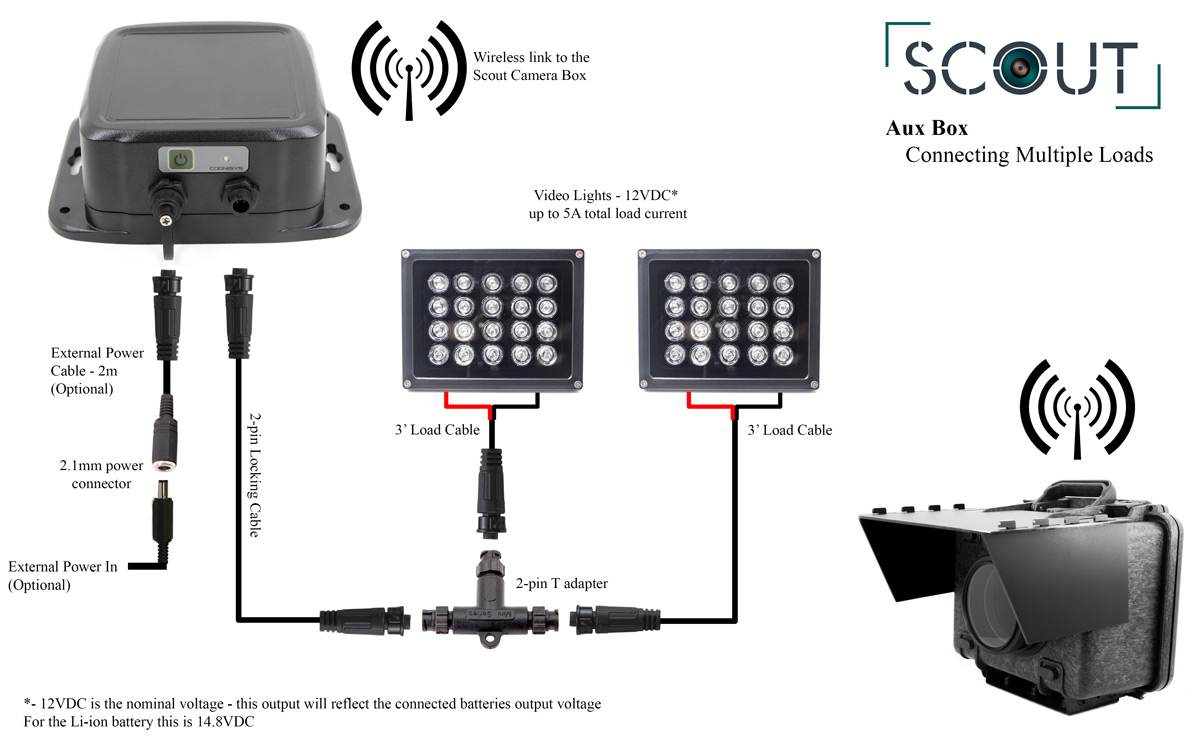 Reviews
Specs
Dimensions
| | |
| --- | --- |
| Aux Box Dimensions - Including Mounting Flange (L x W x H) | 118 mm x 118 mm x 60 mm |
Electrical Specification Summary
| | | | | |
| --- | --- | --- | --- | --- |
| Specifications | MIN | NOM | MAX | UNITS |
| Operating Temperature | -40 | 25 | 105 | C |
| Input Voltage | 6 | 14.8 | 20 | Vdc |
| Input Current No Load - 12Vdc in | - | 492 | - | uAdc |
| Input Current No Load - 16.8Vdc in | - | 374 | - | uAdc |
| Aux Output Current | - | - | 5 | Adc |
| Battery Life (5200 mAHr Battery) | | 200 | | days |
| Wireless Range | - | - | 30 | m |
Support
How To
Accessories
Aux Lighting Box Accessories:
---
You May Also Be Interested In: