Shutter Interface Cable (3.5 mm)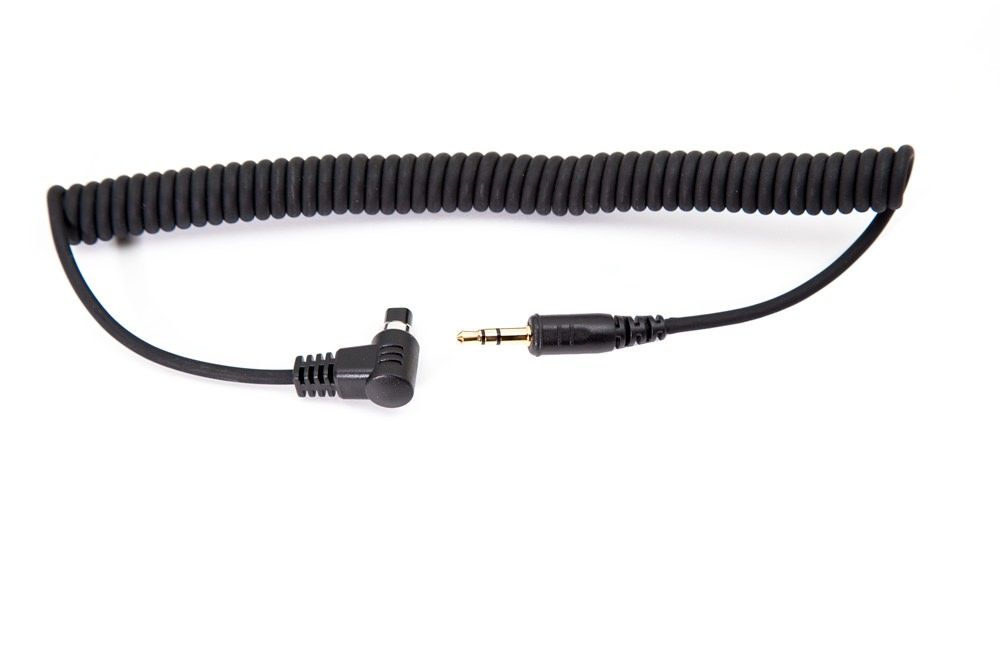 Camera Compatibility
Shutter Cable
Compatible Cameras
Canon N3
Canon EOS R5, 50D, 40D, 30D, 20D, 20Da, 10D, 7D, 7D Mark II, 6D, 6D Mark II, 5D, 5D Mark II, 5D Mark III, 5D Mark IV, 5DS, 1Ds, 1Ds Mark II, 1Ds Mark III, 1D, 1D Mark II, 1D Mark IV, 1D-X, 1D-X Mark II, D60, D30, 1V (uses the Canon N-3 connector)
2.5mm
Canon EOS M6 Mark II, R, RP, R6, R7, R8, R100, 90D, 60D, 70D, 77D, 80D, 1100D, 1000D, 850D, 750D, 600D, 550D, 500D, 450D, 400D, 350D, 300D, Rebel T1i, T2, T2i, T3, T3i T4i, T5, T5i, T6i, T6s, T7, T8i, SL1, SL2, XSi, Rebel XS, Rebel XTi, Rebel XT, Rebel, Kiss X3 Digital, Kiss X2, Kiss X, Kiss N, Kiss F, Kiss, EOS ELAN 7/7E, ELAN 7NE, ELAN II/IIE, Rebel 2000, Rebel GII, Rebel G, Rebel T2, Rebel Ti (uses Canon E3 connector)

Canon Powershot G16 / G10 / G11 / G12 / G15 / G5x / G3x / G1x / G1x Mk II

Fuji X-T1, X-T2, X-T3, X-T4, X-T30, GFX 50S, GFX 100, X-Pro 2, X-H1, X-H2

Olympus OM-1, OM-D E-M1 Mark II and Mark III, E-M1X, E-M5 Mark III (RM-CB2 Release Cable)

Pentax 645Z, K-1, K-01, K-3, K-5, K-7, K200D, K110D, K100D, K100D Super, K20D, K10D, MZ-6, MZ-L, ZX-L, *ist D/DS/DS2/DL/DL2/K10

Contax N Digital, 645, NX, N1

Hasselblad H/H1/H2/H2D/H1D, H4X, H5D, H6D

Samsung GX-1S, GX-1L, GX-20, GX-10

Sigma SD1, SD1 Merrill, SD15

Nikon N1 (10-pin)
Nikon Z9, Z8, D850, D810./D810A, D800/D800E, D700, D500, D300/D300S, D200, D100 (via MB-D100 battery grip), D5, D4/D4s, D3X, D3, D2H, D2X, D2Xs, D1X, D1H, D1, F100, F90X, F90, F6, F5

Kodak DSC-14n. DSC Pro SLR/n, DSC Pro SLR/c

Fujifilm FinePix S5 Pro, S3 Pro
Nikon MC-DC2
Nikon Z5, Z6, Z7, Z7 II, Df, D90, D600, D610, D750, D3100, D3200, D3300, D5000, D5100, D5200, D5300, D5500, D5600, D7000, D7100, D7200, D7500
Sony RM-VPR1

Sony FX3, FX30, A1, A58, A7, A7III, A7IV, A7R, A7RII, A7RIII, A7RIV, A7RV, A7S, A7SII, A7SIII, A9, A3000, A5000, A6000, A6400, A6500, A6600, HX300, NEX-3NL, RX100 II, RX10 IV, RX0 II

Olympus RM-UC1

Olympus Pen XZ-1, E-PL2, Ep-1, Ep-2, E-P1, EVOLT E-620, E-520, E-510, E-450, E-420, E-410, E-400, E-30, SP-590UZ, SP-570UZ, SP-565UZ, SP-560UZ, SP-550UZ, SP-510UZ, OM-D E-M5, OM-D E-M5 MarkII, OM-D E-M1, E-PM2

Olympus RM-CB1

Olympus Olympus E-1, E-3, E-5, E-10, E-20, E-20N, E100RS, C2500L

Lumix 2.5 mm
(4-cond)
Panasonic Lumix DC-S1, DC-S1R, DC-S1H, DC-S5, GX8, DC-GH5, DC-GH5 MkII, DMC-GH1, DMC-G1, DMC-G5, DMC-FZ50, DMC-FZ30, DMC-FZ25, DMC-FZ20, DMC-FZ15, DMC-LC1, DMC-L10, DMC-L1

Leica V-LUX 1, DigiLux 3, DigiLux 2


This cable is not compatible with StopShot, StopShot Studio or StackShot.


Use the 3.5mm Coiled Shutter Cable for Sabre, Scout or StackShot 3X. This cable is 1 ft when retracted and 3 ft when extended. There is a 3.5 mm connector on one end and the camera connector on the other.
This is the same cable that is included with the purchase of a Sabre or Scout - purchase this cable if you need support for more than one camera connector style.