This 1m Slider was designed to add sliding motion to your time lapse videos - use it with the StackShot 3X Pan/Tilt Kit to complete a full 3 axis motion control system. Or, mount a StackShot Macro Rail to this slider and use it create focus stacked panoramic images - perfect for geological core samples.

Built around a 1m Igus WS16-60 Slider.

What's in the box?
- 1m (39in) Stepper Motor Enabled Slider
- 0.25m (10 in) Motor Cable
- Rotary Table Spacer Kit
- Belt Tension Adjustment Screws

Please note: This product will ship in a separate box.
Features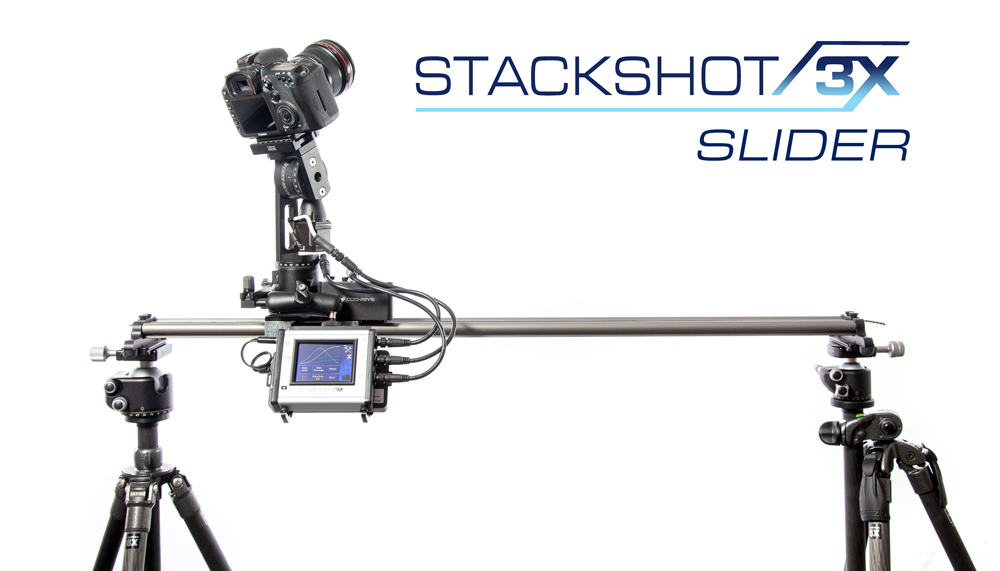 StackShot 3X Slider
Add a slider to your StackShot 3X motion control system to give you yet another axis of creative freedom. A complete solution for adding motion to your time lapse videos or use it for repeatable real time video motion profiles. This 1m long slider is powered by a high precision stepper motor and the StackShot 3X controller. It is built on an Igus WS-16-60 linear slide. If you already have one of these slides the system is available as a retrofit kit.
Slider Features
Built around a WS-16-60 Igus linear rail
Available as a complete slider or as a retro fit kit
1/4"-20 threaded holes in the slider end caps for easy Arca Plate and Tripod mounting
Camera Carriage is tapped with several 1/4" - 20 and 10 - 32 holes
10-32 holes are spaced at 30 and 45 mm apart - mount the most common Arca Clamps
Spacer kit for Arca Clamp included
Powered by a high torque NEMA 17 stepper motor - maximum repeatability
Can be run with X, Y or Z outputs on the StackShot 3X controller
Easy to adjust belt - belt tension is not critical
Belt can be removed for manual operation
No tools required to change belt
Use in any orientation - including vertical
Adjustable rubber feet for mounting on flat (or almost flat) surfaces.
Slider Tripod Mounting Detail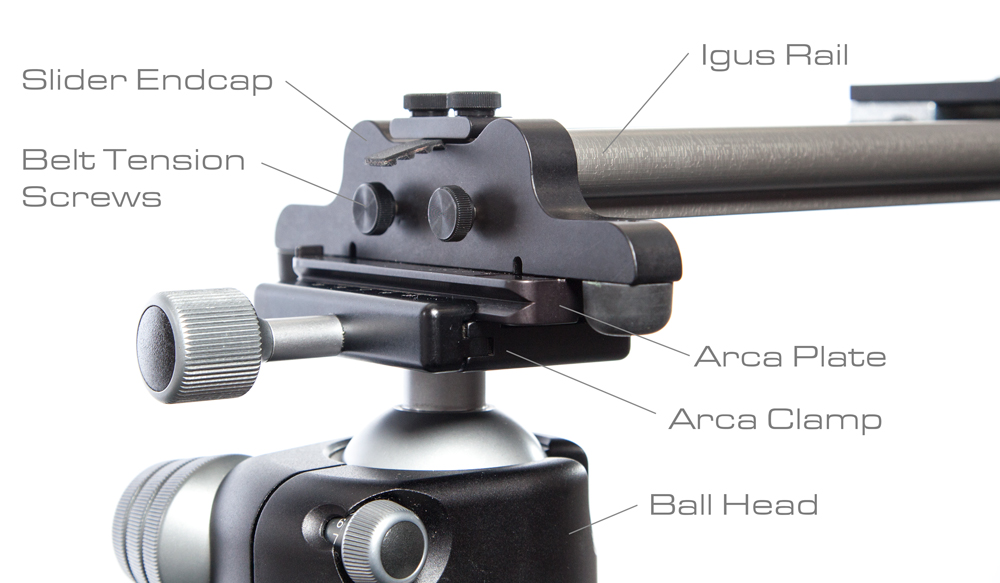 The slider has three 1/4-20 mounting holes in the base of the end cap that are used to mount your tripod plates to. You can use camera or lens plates. The end cap has a machined groove to allow for lens plate stops to fit through. Shown is the Wimberley P-20 plate (available in our store).
Also shown in the image to the left are the two thumb screws used to adjust belt tension. The end caps are attached to the slider with two 1/4-20 set screws from the bottom (Allen Key Included). To tighten the belt loosen the set screws and tighten the thumb screws until the belt has no slack. Then re-tighten the set screws. If you notice the carriage lurching when at a steep angle and the carriage is going down the belt needs to be tightened.
Mounting the Pan/Tilt Kit to the Slider Carriage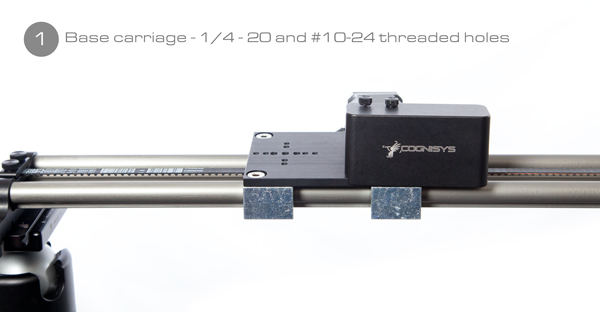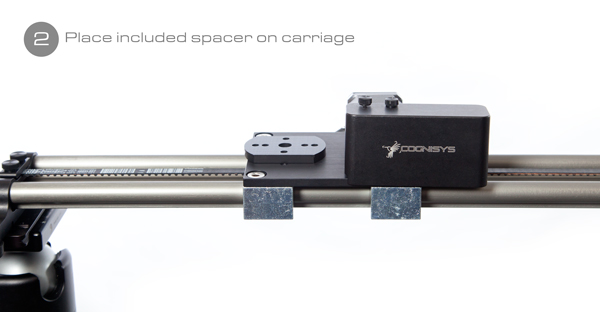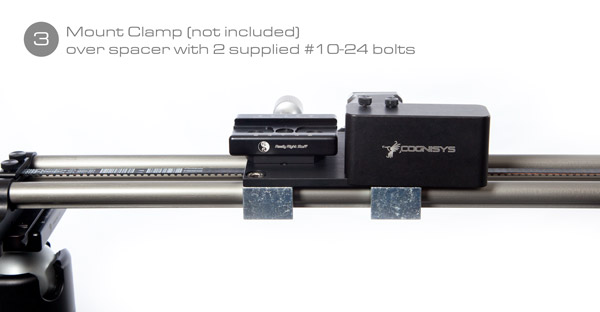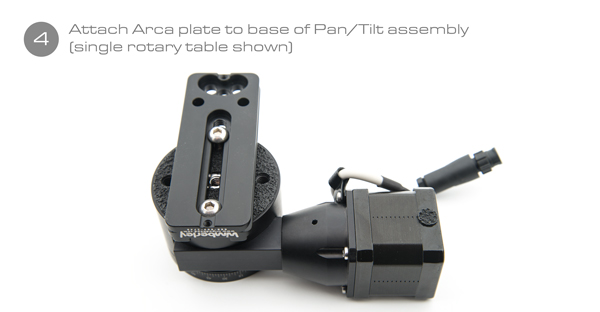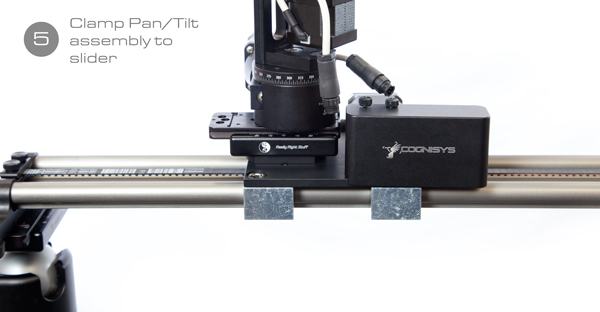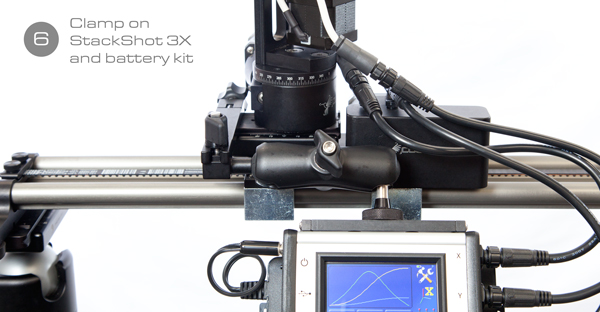 The slider includes a 0.25 m (10 in) cable. If you plan to do a lot of vertical shooting with heavy loads you may want to purchase and additional 2 m cables. This will allow you to mount keep the controller off the carriage and leave more of the capacity for camera gear.
The Slider with StackShot 3X and the Pan/Tilt Kit
Time Lapse of Milky Way over Alabama Hills from Cognisys Inc. on Vimeo.
Reviews
Specs
Specifications
Overall length: 1 m (39.4 in)
Travel: 0.82 m (32.4 in)
Width: 150 mm (6 in)
Height: 100 mm (4 in)
Weight: 3.6 kg (7 lb 15 oz)
Max Travel Speed: 100 mm/sec (4 in/sec)
Max Payload - Vertical: 4.5 kg (10 lb)
Max Payload - Horizontal: Rail Support Dependant
How To
Accessories
---
You May Also Be Interested In: