The Scout Camera Box offers everything you will ever need in a camera trapping system. This starts with wireless communication with the Scout receiver, Scout PIR, Scout Flashes and LED video lights. Say good bye to nibbled wires ruining your trail monitors.
This system is configured using your mobile device (iPhone or Android) for easy in field configuration.
The box is built around an IP67 waterproof enclosure for maximum protection for your camera and lens. It has slots for two battery packs, either AA or Li-Ion for extended deployments. It also has an on board power supply for your camera allowing it to be powered from the camera box battery packs. Keeping with Cognisys tradition the box is fully configurable allowing you to program in wake-up times for 1/2 press, full press and even auxiliary loads like video lights or external flashes.
What's Included
- Camera Box and Camera Controller
- Sealed lens tube (choose length below)
- Battery pack - (choose AA or Li-Ion)
- Quick release camera mount and camera plate
- Laser cut foam insert for the front of the camera box


Camera, Security Cable and AA batteries not included.
Features
About the Scout Camera Box
If you have done any camera trapping you know how much work it is - if it can go wrong it will. The Scout Camera Box was designed to help out with all of the little gotcha's of camera trapping. Starting by getting rid of the wires. The Scout Camera Box has 2.4 GHz wireless transciever in it so it can communicate directly with the Scout Receiver for wireless triggering - no more worrying about the wires getting in the image or worse yet getting chewed and rendering your camera trap useless.
Scout Camera Box Features
Fully weatherproof housing for your DSLR or mirror-less camera.
Compatible with any camera that has an external shutter release - it also helps battery life if your camera can be woken up with this port.
Wifi (802.11 a/b/g/n) connectivity to your computer, tablet, or phone to adjust all of the settings.
Wireless connectivity to other Scout products:
- Scout RX or PIR sends a wireless trigger signal to the Scout Camera Box when the subject is detected
- Camera controller sends wireless "fire" signal to the Scout Flashes
>100 days of battery life with the AA Battery option (use-case dependent - no camera power)
Customizable camera control (number of pictures, time windows, etc).
Camera flash sync input.
Auxiliary lighting support for video – 3 aux outputs.
Support for 2nd External Camera.
Aux, flash, 2nd camera output available on outside of the box via waterproof bulkhead connectors.
External Power for larger batteries if needed.
Flash wake and sync out.
Complex multiple triggering options (for example):
- PIR #1 activates lighting bank on the left
- PIR #2 activates lighting bank on the right
- Receiver #1 starts video recording
- Receiver #2 takes several still photographs
Time-lapse feature.
Shot limiter - Can limit the number of shots to reduce nuisance triggers (curious squirrels).
Supply power to your camera from the Scout Camera Box Batteries with the optional Dummy Battery Packs.
Multiple ¼-20 tripod mounts.
Battery packs can be doubled up for long-term deployments.
Security features for python cables and locks.
The camera box is vented with an ePTFE waterproof membrane to prevent pressure from developing inside the box. This dramatically improves seal performance and life.
Works with the Trail Master sensor (needs wires!) - use a Scout cable with a 3.5mm patch cable.
USB enabled for reprogramming firmware.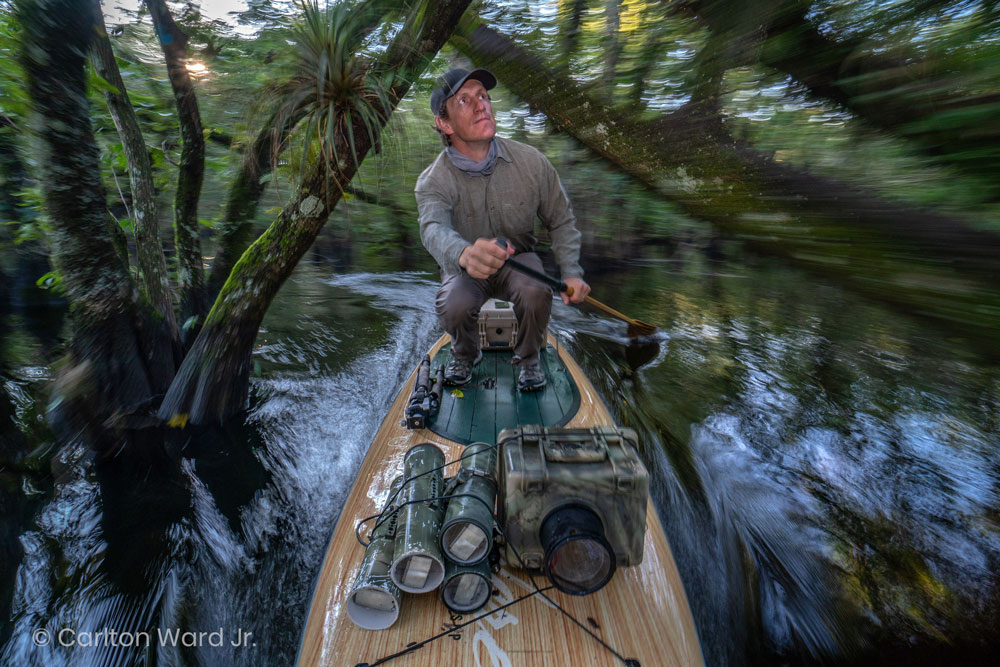 Camera Box Mounting
The Scout Camera Box also comes with a large mounting surface with several 1/4-20 mounting holes - the configuration can be seen in the image to the right. We even have a right angle mounting option that can be added for addiitional flexibility. We have found the most flexible mounting option to be installing a low cost arca plate to the base of the box and using an imported ball head and stake or tripod.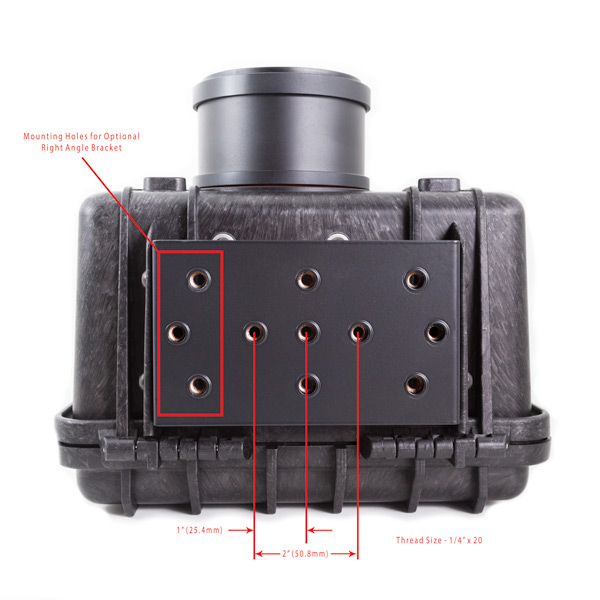 Configure With your Phone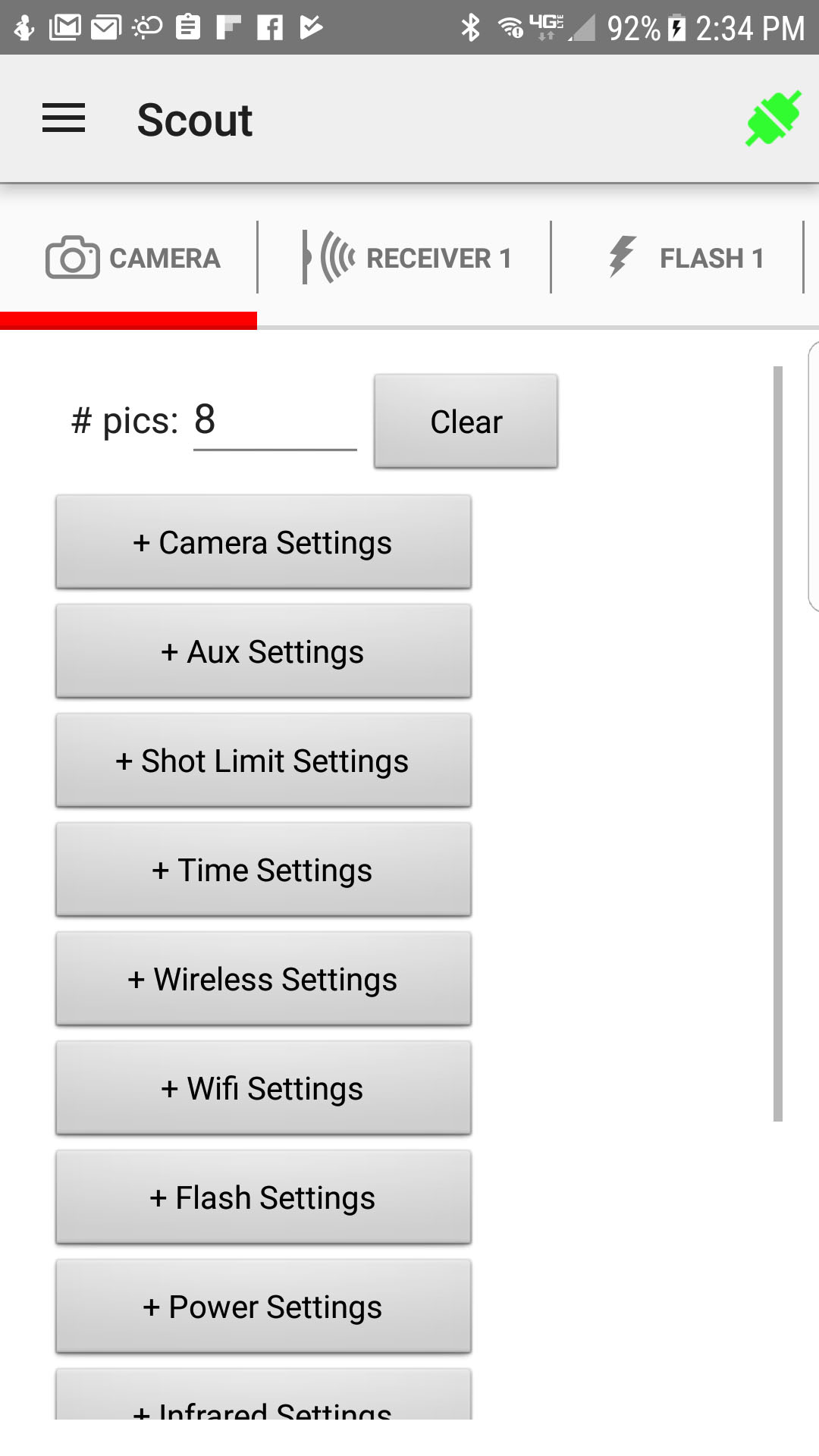 In addition to the box itself a lot of work went into the user interface of the camera controller in the box. For this you can use your mobile device that you are already carrying with you (iphone or Android). From here you can change all of the settings for the camera box, this includes: shutter timing, wake-up signals, power management, external load timing, hours you want the system acitive as well as any shot limits you want to add. Even the settings for your Scout Receiver can be set up through this interface.
Room in the Box - Selecting the Right Lens Tube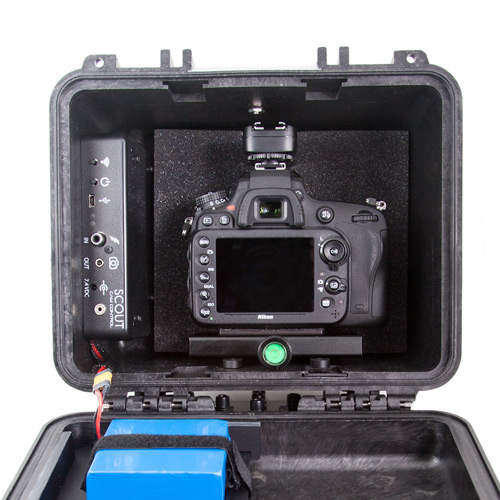 Camera Box Dimensions
(length x depth x height)
Dimensions with box feet down:
Inside Box Dimensions: 9.5" x 7.1" x 6.1" (243 x 180 x 157 mm)
Outside Box Dimensions: 10.6" x 9.0" x 7.2" (270 x 231 x 185 mm)
Dimensions with box feet pointing in same axis as the lens (length x depth x height)
Space available for camera body: 8.2" x 4.5" x 7.1" (208 x 114 x 180 mm)
Determine Lens Tube Length
Measure the distance from the point furthest forward on your camera to the end of your lens - subtract 1 in or 24 mm and choose the shortest lens tube that will accommodate your lens. There are 3 lengths available, they have inside dimensions of 34 mm (1.3 in), 59 mm (2.3 in) and 85 mm (3.3 in). You can also purchase additional tubes if needed.
This assumes your camera is tight up against the inside wall of the camera box - there is sufficient room in the box to move the camera back if needed. Both the foam mount and Arca Mount options allow for this adjustment. Also keep in mind that if you are using a wide angle lens you will want to have the lens as close to the lens tube filter as possible to minimize getting the camera box lens tube in your images.
The max lens diameter that will fit into the lens tube is 85 mm (3.3 in).
There is enough room in the camera box to use a full frame camera with a wireless flash transmitter on the hot shoe (see image).
FAQs
Top Customer Questions and Answers (FAQ)
How do I choose between the two battery types AA and Li-Ion?
There are a few considerations here. From a capacity standpoint, when you choose the AA battery pack and use Eneloop rechargeable batteries you will get about 2000 mAHr of capacity at 9.6V - this gives you about 19.2 WHr. The Li-Ion battery gives you 5200 mAHr at 14.8VDC - this is about 77 WHr. This gives the Li-Ion pack about 4 times as much life. For comparison's sake, the camera batteries supplied with a full frame Canon camera have about 1800 mAHr at 7.2V for about 13 WHr. So, from a pure capacity standpoint, the Li-Ion is the clear winner. There are, however, other considerations, namely cost and shipping restrictions. Li-Ion batteries do have shipping restrictions; they cannot be sent via the US Post and must be shipped via FedEx or UPS. Domestically, this is not a big deal but for international customers FedEx or UPS shipping is expensive.
I plan to use the camera box where the weather is really humid, do I need to take any special precautions?
We include a water proof vent in the camera box to help minimize pressure differentials between the outside and inside of the box. These pressure differentials are tough on the seals and can cause moisture to be sucked into the box under the right conditions. The vent helps to prevents this. However, if you need to open the camera box when it is very humid outside, the box will fill with moisture laden air. Once it gets cool, the moisture will condense out of the air and all over your camera and the rest of the inside of the box. The easiest remedy for this is to include a desiccant pack in the box before deployment. This pack will absorb the moisture in the air, preventing it from condensing all over your gear.
Can the filters on the lens tubes be removed?
The filters on the lens tubes are permanently sealed to the lens tubes. In development we tested many different gaskets between the filter and lens tube, but none of them sealed satisfactorily so we ended up sealing it permanently and pressure testing every assembly - they are guaranteed to be sealed. We even went so far as to remove the filter glass from the filter and seal it independently. These tubes will not leak. The o-ring on the base of the tube also provides for an excellent seal against the camera box. They are standard Silicone -042 o-rings and can be replaced if they get damaged or lost.
Can I use Sabre with the Camera Box?
Yes, you can use
Sabre
with the Scout Camera Box, but you will need a
5-pin cable
between the Sabre and the Camera Box. The Sabre does not have the same wireless capability as the Scout, so a cable is required to connect the two. Another little wrinkle in this setup is that the Scout Receiver can be configured from the Camera Box application whereas the Sabre cannot. This means it is necessary to configure the Sabre through Wi-Fi, then disconnect your mobile device, and then reconnect to the Scout Camera Box and configure it. The Scout Receiver on the other hand, can be reconfigured directly through the Camera Box app.
Do I need to reprogram my Scout Camera Box or Scout Receiver when it arrives?
All of our products ship with the latest firmware installed so they are ready to use right out of the box. However, if you've had your Scout Receiver for a while and are adding the camera box, you will want to update your Scout Receiver firmware, which can be found under the support tab. 
Have additional questions about ordering and shipping?
Visit our general
FAQ
page.
Specs
Camera Box Specifications
| | | | | |
| --- | --- | --- | --- | --- |
| Specifications | MIN | NOM | MAX | UNITS |
| Input Voltage | 9 | 12 | 20 | Vdc |
| Input Current–Full on (*AA batteries/Li-Ion pack) | - | 60/33 | - | mAdc |
| Input Current–Sleep(8AA batteries / Li-Ion pack) | - | 0.65/0.44 | - | mAdc |
| Shutter/Aux Output Current Sink | - | - | 1 | Adc |
| Battery life (internal - Eneloop batteries at 25C) | - | 100 | 140 | days |
| Real-time clock life without batteries | - | 16 | - | hours |
| Wireless Range | - | 15 | 30 | m |
| | - | 50 | 100 | feet |
| Operating Temperature | -40 | 25 | 80 | C |
| | -40 | 77 | 176 | F |
Technical Highlights
32-bit power optimized ARM Processor
Wifi 802.11 a/b/g/n
Wireless connectivity: Proprietary 2.4GHz
Real-time clock for time-windowed triggering (two windows provided)
Powered by 8 AA batteries, Li-Ion battery pack, or external power
Power for camera (with optional dc coupler / dummy battery)
Camera flash sync input
Flash sync output
Flash wake output
All outputs are open drain (Can be used for flash, shutter, or relays)
USB for reprogramming
Support
How To
Connecting the Camera Box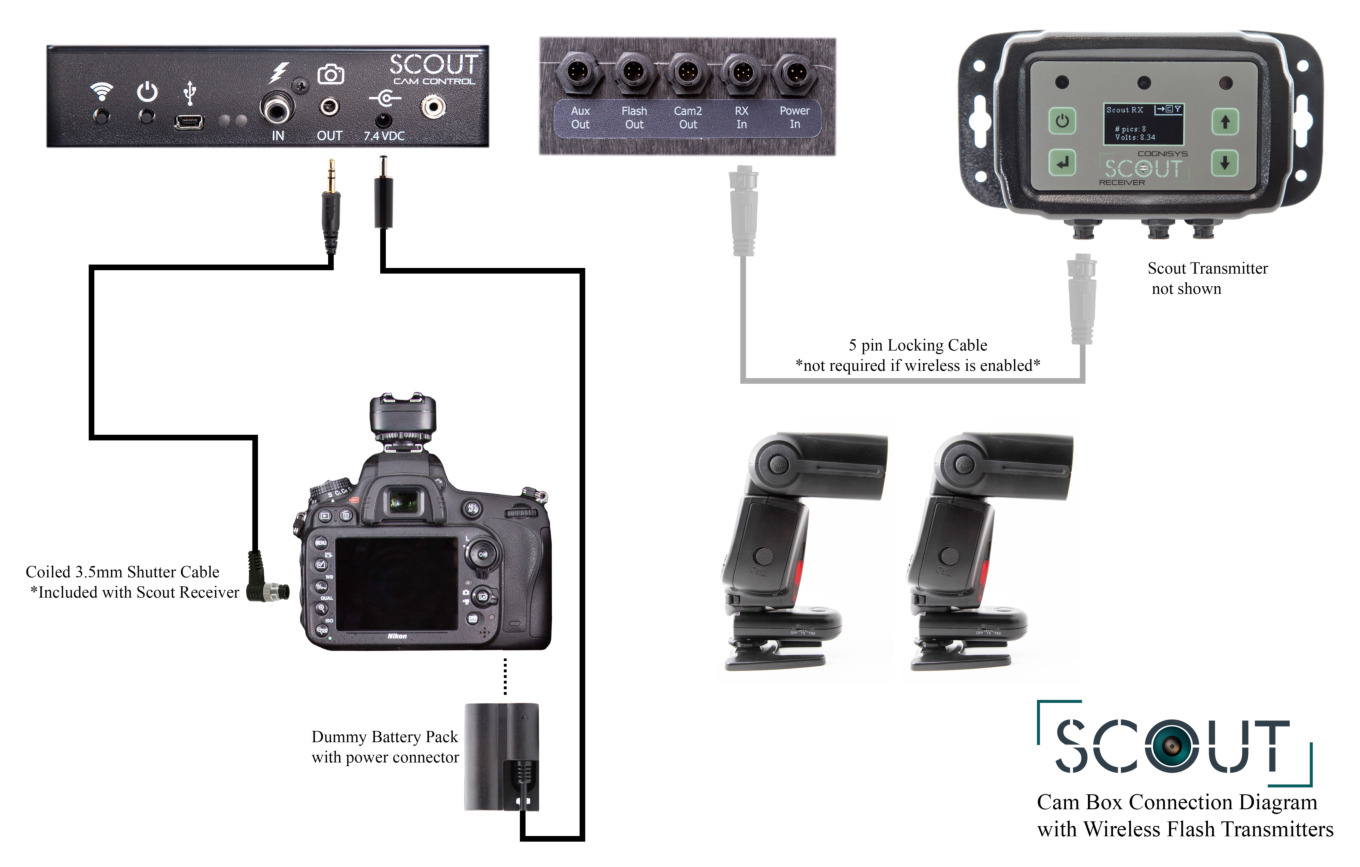 +
Shutter Interface Cable (RCA)
Shutter Interface Cable (RCA)
3.5mm Shutter Cable - This cable is included with the Scout Beam Sensor or Scout PIR. If you need just the 3.5mm shutter cable you can find it
here
+
Sony NP-FW50 Dummy Battery
Sony NP-FW50 Dummy Battery
Power your camera with the Li-Ion Batteries inside the camera box with a
Dummy Battery.
+
Scout Trail Monitor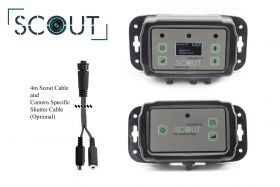 Scout Trail Monitor
+
Scout Camera Box
Scout Camera Box
To the left of this dot is the interior of the
camera box
. To the right of this dot is the exterior of the camera box.
Accessories
Gallery
Customer Videos Captured with Scout
Customer Images Captured with the Scout Camera Trapping System
---
You May Also Be Interested In: