In stock
SKU
SCOUT_MINI_CAMBOX_BNDL
The Scout Mini Camera Box is the smallest version of Scout Camera Box available. It offers everything you will ever need in a camera trapping camera box. This starts with wireless communication with the Scout receiver, Scout PIR, Scout Flashes and LED video lights. Say good bye to nibbled wires ruining your trail monitors.
This system is configured using your mobile device (iPhone or Android) for easy in field configuration.
The box is built around an IP67 waterproof enclosure for maximum protection for your action cam. It has slots for two battery packs, either AA or Li-Ion for extended deployments. It also has an on board power supply for your camera allowing it to be powered from the camera box battery packs. Keeping with Cognisys tradition the box is fully configurable allowing you to program wake-up times for 1/2 press, full press and a variety of other settings.
What's Included
- Camera Box and Camera Controller
- Built in Battery Y cable
- Battery pack - (choose AA or Li-Ion)
- GoPro compatible camera mount - 1/4-20 - Box side
Camera, Security Cable and batteries not included.
Features
About the Scout Mini Camera Box
The Scout Mini Camera Box is the latest addition to the Scout line of camera trapping products. The Scout Mini Camera Box is compatible with the rest of the Scout sensors and wireless accessories. This box was designed to house an action cam and allow the easy capture of B-roll footage or as a main camera in tight locations. It is also an ideal choice for long duration time lapse movies where the stock action cam battery just won't cut it.

Scout Mini Camera Box Features
Fully weatherproof housing for your action cam and additional batteries.
Compatible with any camera that will fit inside the box and can be triggered with a wired shutter release. The GoPro Hero 10 Bones and Sony RX0 II are the two most popular options.
Wifi (802.11 a/b/g/n) connectivity to your computer, tablet, or phone to adjust all of the settings.
Built in Battery Y cable - allows for connection of two Li-Ion batteries with no extra battery Y cable.
1/4-20 Mounting holes in the base for easy mounting
Wireless connectivity to other Scout products:
- Scout RX or PIR sends a wireless trigger signal to the Scout Camera Box when the subject is detected
- Camera controller sends wireless "fire" signal to the Scout Flashes
Customizable camera control (number of pictures, time windows, length of video, etc).
Camera flash sync input.
External Power connector.
Complex multiple triggering options (for example):
- PIR #1 activates lighting bank on the left
- PIR #2 activates lighting bank on the right
- Receiver #1 starts video recording
- Receiver #2 takes several still photographs
Time-lapse feature.
Shot limiter - Can limit the number of shots to reduce nuisance triggers (curious squirrels).
Supply power to your camera from the Scout Camera Box Batteries with the optional Dummy Battery Packs.
Multiple ¼-20 tripod mounts.
Battery packs can be doubled up for long-term deployments.
Security features for python cables and locks.
The camera box is vented with an ePTFE waterproof membrane to prevent pressure from developing inside the box. This dramatically improves seal performance and life.
USB enabled for reprogramming firmware.
Camera Box Mount
The Scout Mini Camera Box includes a robust aluminum mounting plate with three 1/4-20 Mounting holes. Attach an Arca Plate to allow easy mounting to a ball head.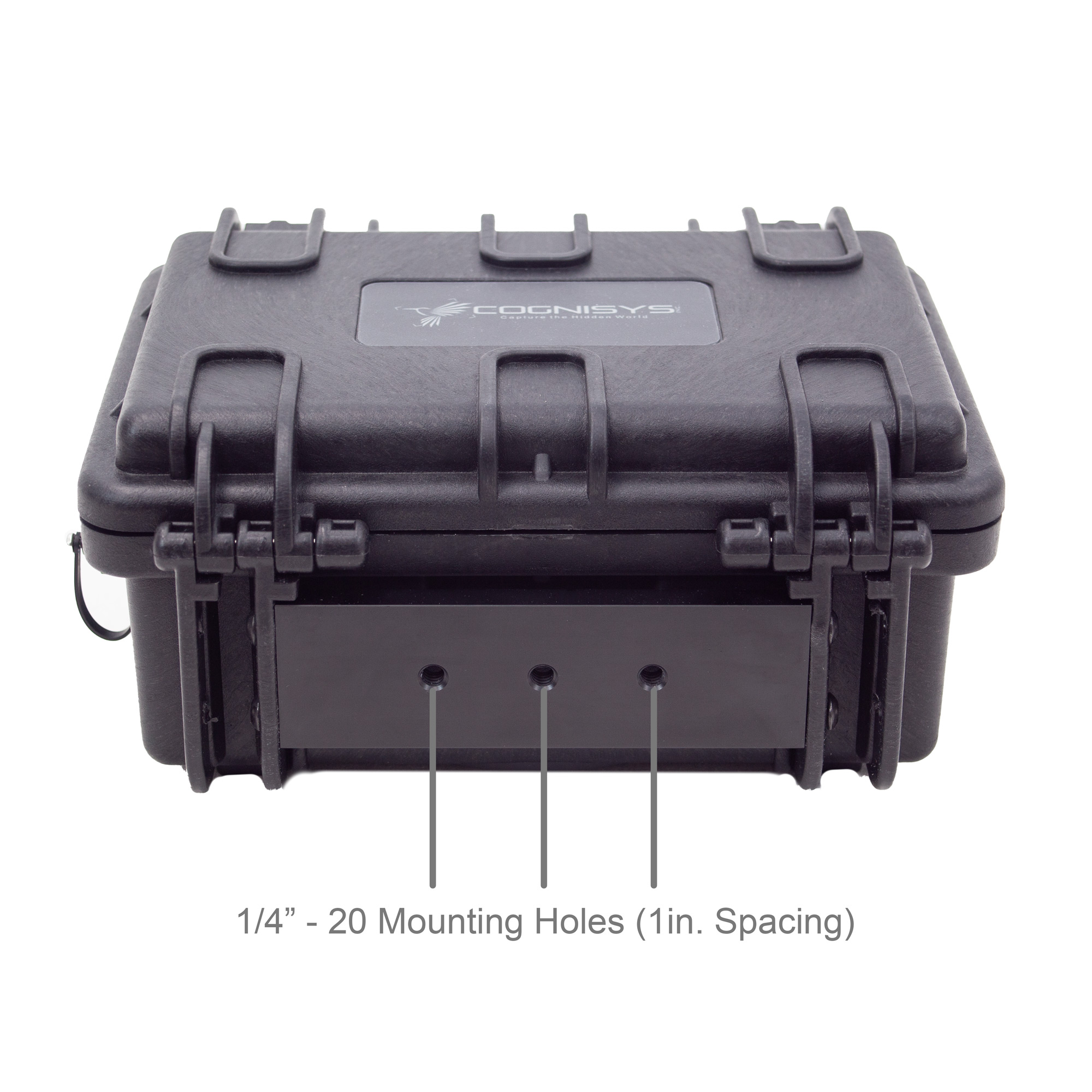 Configure With your Phone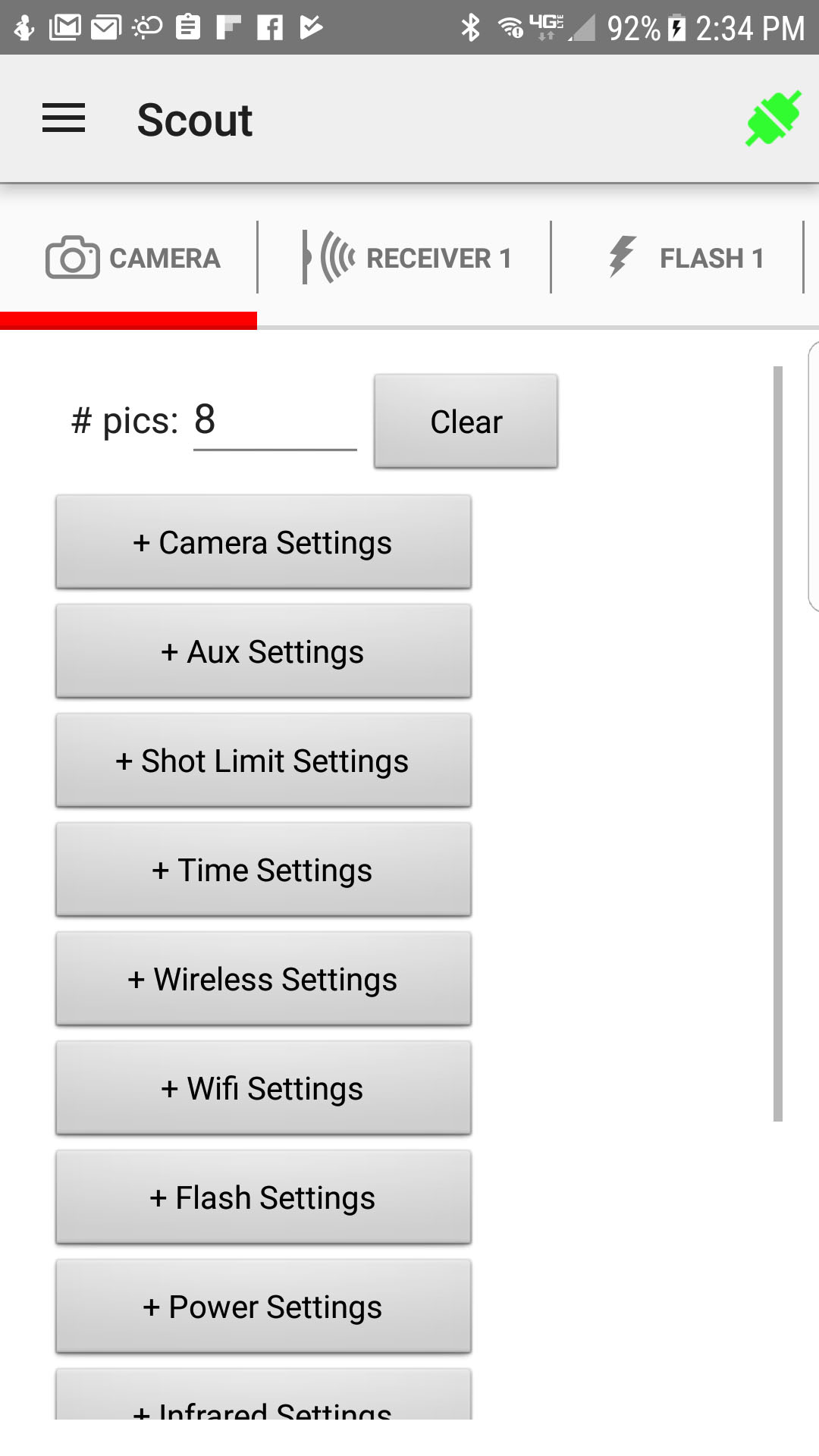 Need to make configuration changes to the camera box. For this you can use your mobile device that you are already carrying with you (iPhone or Android). Using the same app as the standard Scout Camera Box you can change all of the settings for the Scout Mini Camera Box, this includes: shutter timing, wake-up signals, power management, hours you want the system active as well as any shot limits you want to add. Even the settings for your Scout Receiver and lighting can be set up through this interface.
Camera Box Dimensions
(length x depth x height)
Dimensions with box feet down:
Inside Box Dimensions: 7.60" x 5.00" x 3.15" (193 x 127 x 80 mm)
Outside Box Dimensions: 8.5" x 7.1" x 4.0" (216 x 180 x 102 mm)
When using the RX0 only one Scout battery can be used in the Scout Mini Camera Box. The shutter interface cable exits the back of this camera using space normally occupied by the second Li-Ion battery.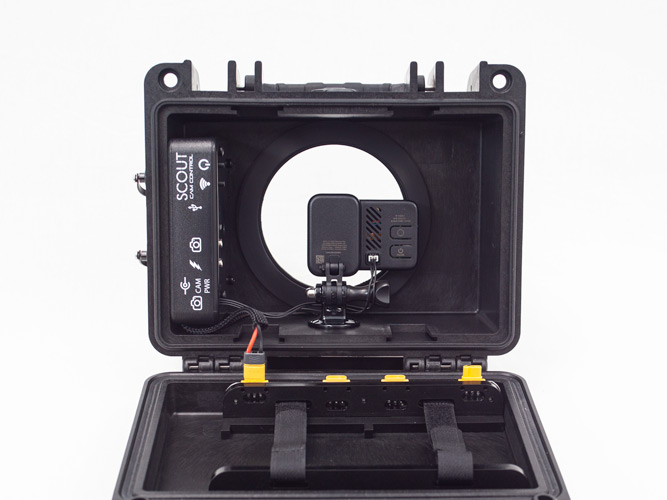 Compatible Cameras
The Scout Mini Camera Box has been tested with the Sony RX0 Mk II and the GoPro Hero 10 Black Bones. A few considerations for each of the cameras: Sony RX0 Mk II: requires the Sony Video Switch to activate movie recording and can be used with the factory battery or a RX0 Dummy Battery. When using the RX0 only one Li-Ion battery can be used in the Scout Mini Camera Box, the shutter interface cable for the RX0 exits the rear of the camera and uses space from the second battery. GoPro Bones: The Scout Mini Camera Box includes the cable for the GoPro Bones, the cable provides power and activates the shutter. The Bones does not have a battery so it must be powered by the Camera Box. Two Li-Ion batteries can be used in the Scout Mini Camera Box when using the Bones camera.
Reviews
FAQs
Top Customer Questions and Answers (FAQ)
How do I choose between the two battery types AA and Li-Ion?
There are a few considerations here. From a capacity standpoint, when you choose the AA battery pack and use Eneloop rechargeable batteries you will get about 2000 mAHr of capacity at 9.6V - this gives you about 19.2 WHr. The Li-Ion battery gives you 5200 mAHr at 14.8VDC - this is about 77 WHr. This gives the Li-Ion pack about 4 times as much life. For comparison's sake, the camera batteries supplied with a full frame Canon camera have about 1800 mAHr at 7.2V for about 13 WHr. So, from a pure capacity standpoint, the Li-Ion is the clear winner. There are, however, other considerations, namely cost and shipping restrictions. Li-Ion batteries do have shipping restrictions; they cannot be sent via the US Post and must be shipped via FedEx or UPS. Domestically, this is not a big deal but for international customers FedEx or UPS shipping is expensive.
Is the system compatible with other GoPro camera models?
Unfortunately, no. The original design intent of this box was to allow it to communicate via Bluetooth LE with other GoPro cameras mounted within range. Unfortunately we found that waking up any of the GoPro cameras we tested via Bluetooth was extremely unreliable. GoPro cameras are just not suitable for long term camera trapping use. The Scout Mini Cambox is equipped with Bluetooth LE should this change in the future.
I plan to use the camera box where the weather is really humid, do I need to take any special precautions?
We include a water proof vent in the camera box to help minimize pressure differentials between the outside and inside of the box. These pressure differentials are tough on the seals and can cause moisture to be sucked into the box under the right conditions. The vent helps to prevents this. However, if you need to open the camera box when it is very humid outside, the box will fill with moisture laden air. Once it gets cool, the moisture will condense out of the air and all over your camera and the rest of the inside of the box. The easiest remedy for this is to include a desiccant pack in the box before deployment. This pack will absorb the moisture in the air, preventing it from condensing all over your gear.
Can the IR filter on the box be removed?
The filter on the front of the Mini Scout Cambox are permanently sealed and cannot be removed. 
Do I need to reprogram my Scout Camera Box or Scout Receiver when it arrives?
All of our products ship with the latest firmware installed so they are ready to use right out of the box. However, if you've had your Scout Receiver for a while and are adding the camera box, you will want to update your Scout Receiver firmware, which can be found under the support tab. 
Have additional questions about ordering and shipping?
Visit our general
FAQ
page.
Specs
Camera Box Specifications
| | | | | |
| --- | --- | --- | --- | --- |
| Specifications | MIN | NOM | MAX | UNITS |
| Input Voltage | 9 | 12 | 20 | Vdc |
| Input Current–Full on (*AA batteries/Li-Ion pack) | - | 60/33 | - | mAdc |
| Input Current–Sleep(8AA batteries / Li-Ion pack) | - | 0.65/0.44 | - | mAdc |
| Shutter/Aux Output Current Sink | - | - | 1 | Adc |
| Battery life (internal - Eneloop batteries at 25C) | - | 100 | 140 | days |
| Real-time clock life without batteries | - | 16 | - | hours |
| Wireless Range | - | 15 | 30 | m |
| | - | 50 | 100 | feet |
| Operating Temperature | -40 | 25 | 80 | C |
| | -40 | 77 | 176 | F |
Technical Highlights
32-bit power optimized ARM Processor
Wifi 802.11 a/b/g/n
Wireless connectivity: Proprietary 2.4GHz
Real-time clock for time-windowed triggering (two windows provided)
Powered by 8 AA batteries, Li-Ion battery pack, or external power
Power for camera (with optional dc coupler / dummy battery)
Camera flash sync input
All outputs are open drain (Can be used for flash, shutter, or relays)
USB for reprogramming
Support
How To
Connecting the Camera Box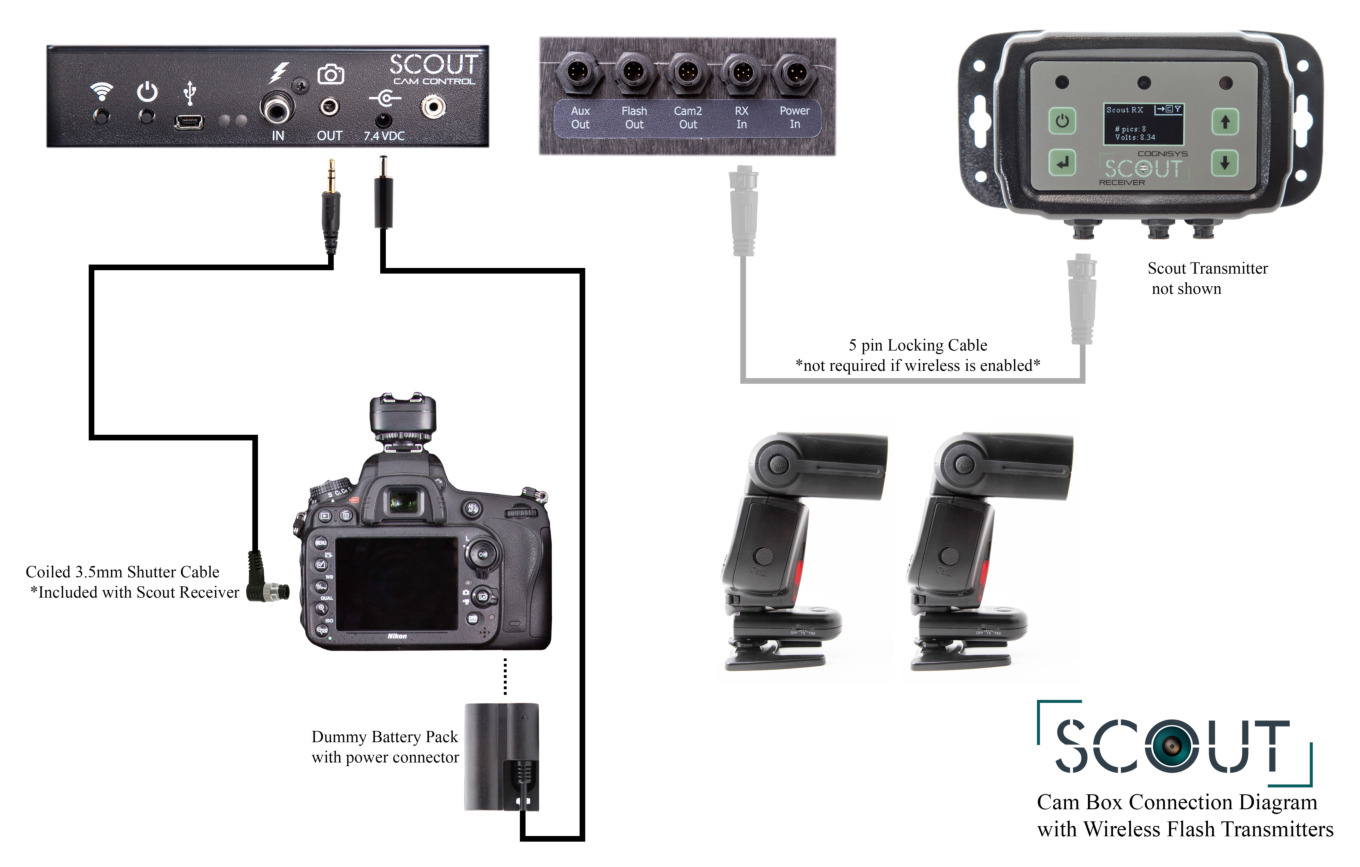 +
Shutter Interface Cable (RCA)
Shutter Interface Cable (RCA)
3.5mm Shutter Cable - This cable is included with the Scout Beam Sensor or Scout PIR. If you need just the 3.5mm shutter cable you can find it
here
+
Sony NP-FW50 Dummy Battery
Sony NP-FW50 Dummy Battery
Power your camera with the Li-Ion Batteries inside the camera box with a
Dummy Battery.
+
Scout Trail Monitor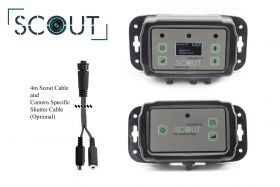 Scout Trail Monitor
+
Scout Camera Box
Scout Camera Box
To the left of this dot is the interior of the
camera box
. To the right of this dot is the exterior of the camera box.
Accessories
Gallery
Customer Videos Captured with Scout
Customer Images Captured with the Scout Camera Trapping System
---
You May Also Be Interested In: