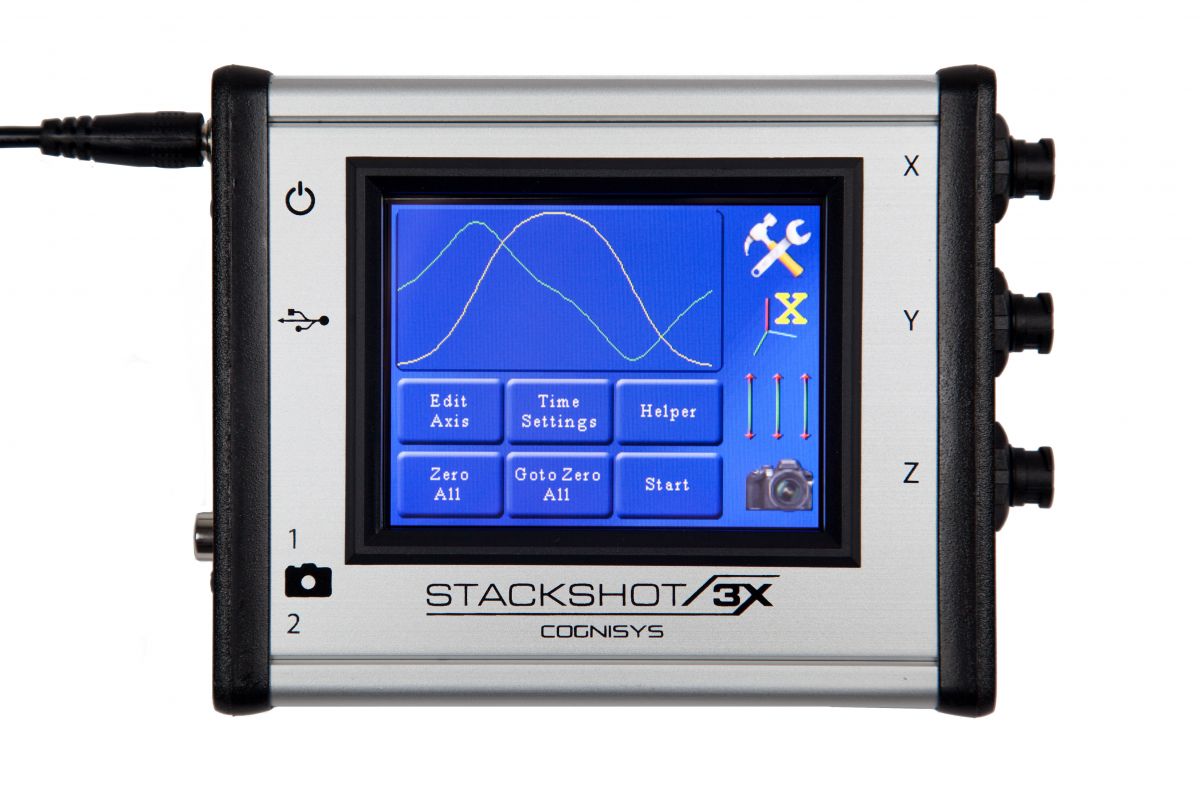 What's Included:
StackShot 3X Controller
Locking Motor Cable (2 meter)
12V 2A Power Supply
The StackShot 3X controller is the next generation StackShot.
It features three axis' of motor control, two camera outputs, USB and Wi-Fi.
This controller can be used to add motion to your movies, both real time and time lapse as well as automate the image collection process for making virtual objects. The controller includes: The StackShot 3X controller 2A AC adapter The StackShot 3X is compatible with both our standard and extended length macro rails. If you have an older macro rail with the non locking connector you will need an additional motor adapter cable.  Just let us know you need it in the order comments!
There is no macro rail included with this item - if you need a macro rail please check out our StackShot 3X kits.
Reviews
FAQs
Top Customer Questions and Answers (FAQ)
Do I need a shutter interface cable for my StackShot Macro Rail?
Can I control StackShot with my computer?
If I am going to control my StackShot Macro Rail with my computer do I still need the StackShot Controller?
Yes, computers are not equipped with stepper motor drivers. The StackShot controller includes both a USB interface to communicate with the computer as well as a stepper motor driver that is required to move the motor.
What are the advantages and disadvantages of the Extended Macro Rail?
Can I use StackShot in the vertical orientation?
Absolutely. StackShot has been verified to maintain its specified accuracy in the vertical position with a load of 4.5kgs (10lbs). The 4.5kg limit is very conservative as we have several customers exceeding this limit without issue.
I am trying to use StackShot with a camera exposure time over a 1/2 second and StackShot moves before the exposure is complete. How do I fix this?
There are a couple of ways to configure StackShot for longer exposures. The first is to change the Toff parameter in StackShot to exceed your exposure time. This will add an additional delay to the sequence to give the exposure time to complete before StackShot moves on to the next step. The default option for Toff is 0.5 seconds. The other option is to put your camera in bulb mode and allow StackShot to control the exposure time using Tpulse. In this configuration the time you enter for Tpulse will be the exposure time, StackShot will then wait Toff (500 mS default) and then start the next move.
Have additional questions about ordering and shipping?
Support
How To
Accessories
StackShot 3X Controller Accessories:
---