StackShot Extended Macro Rail Package
This package includes everything you will need to automate the image collection process for focus stacking just add the camera specific shutter cable. The shutter cable is the communication link between the camera and StackShot. It allows the StackShot controller to control your camera to make the image capturing process completely automated. The shutter cable is required if using StackShot stand alone (with no computer) or with Zerene Stacker. No shutter cable is required if used with Helicon Remote.
The StackShot Extended Macro Rail Package includes:

- StackShot Controller - USB enabled
- StackShot extended length macro rail (200mm of motion)
- 6ft (2m) long motor cable
- AC adapter (available in 4 different styles US, EU, UK and AUS)

The StackShot is a completely configurable automated system for capturing images for focus stacking. StackShot makes focus stacking repeatable, fast and easy. The extended length rail is ideal for large flower or still life focus stacks. .


Features
StackShot - Automated Macro Rail for Focus Stacking
Macro-photography is a fascinating sub-set of the photographic world. It brings to life detail that the human eye all too often misses. Unfortunately macro photographs often suffer from a narrow depth of field. How do photographers capture that stunning shot at high magnification and still have great depth of field? Enter focus stacking. Focus stacking is the art of digitally combining a series of images with a narrow depth of field into a single image with an extended depth. The images are usually collected with a macro rail and combined using a software program such as Zerene Stacker or Helicon Focus. Ideally each of these images is taken at a fixed distance interval.
Most macro photographers are familiar with using a macro rail to adjust the camera's position relative to the subject of interest. These macro rails allow the distance to be adjusted and provide a crude manual method for taking the series of shots required for focus stacking. Unfortunately there are several drawbacks. There is a lack of accuracy, reproducibility, speed, and precision. Additionally, sub-millimeter steps are difficult at best. This is where StackShot comes in, it is an automated focusing rail for repeatably collecting images for focus stacking.
If you want to take your focus stacking to the next level by adding a touch screen interface or two additional axis' of automated motion (subject rotation for example) check out the latest version of StackShot - the StackShot 3X, we also have a comparison of the two controllers.
Repeatable Collection of Images for Focus Stacking - StackShot
StackShot is an electronically controlled macro rail system that coordinates the movement of the macro rail and the triggering of the camera. StackShot's simple user-interface makes the automation of the entire image collecting process for focus stacking very easy.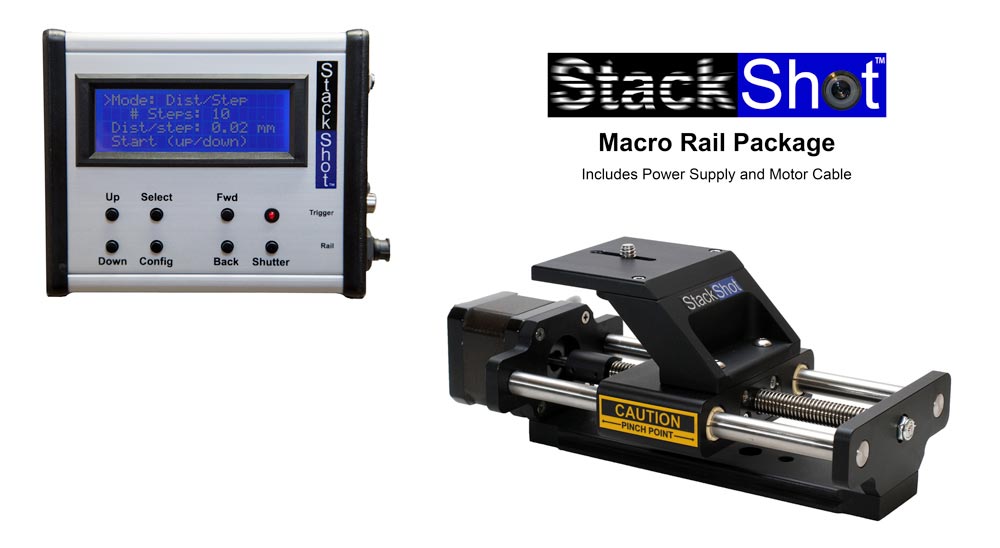 What are the advantages of StackShot?
Accuracy: Step size adjustment from full length of the rail 100 mm down to 2 um.
Repeatability: The "automatic return" feature allows adjustments to the exposure settings between stacks captured with the same position and step size as the previous run with a single button press.
Speed: No more manually adjusting the rail position, pressing the shutter button, and hoping you didn't bump the camera. Everything is automated and fast. This enables focus-stacking for critters that may not be willing to stay in the same position for very long. See Scott Linstead's guest post on the stacking of live spiders for an example.
Completely Configurable: The StackShot is completely user configurable. Timing (both on, off and settle), number of pictures per step (useful for HDR –, maximum speed, ramp time, camera settle time, etc. All the flexibility you will ever need for focus stacking.
Can be battery powered for use in the field. Check out our Li-Ion Battery Kit.
StackShot and the Extended Macro Rail
While the standard rail will fit the vast majority of focus stacking applications, you may want more length for your larger subjects or just more working distance. The extended length rail will give you 200 mm (8 in) of movement from one end to the other, this is double the 100 mm provided by standard macro length travel. If you plan to only do high magnification (>10X) stacks of small subjects you might want to stick with the standard rail as its shorter length makes for a slightly more rigid system. But, if you want to capture larger subjects or want more working distance then this is the longer rail is likely the better choice. Even with its extended length this rail still maintains the same linear accuracy as its shorter cousin. The image below gives an idea of what is possible.
Orchid Stack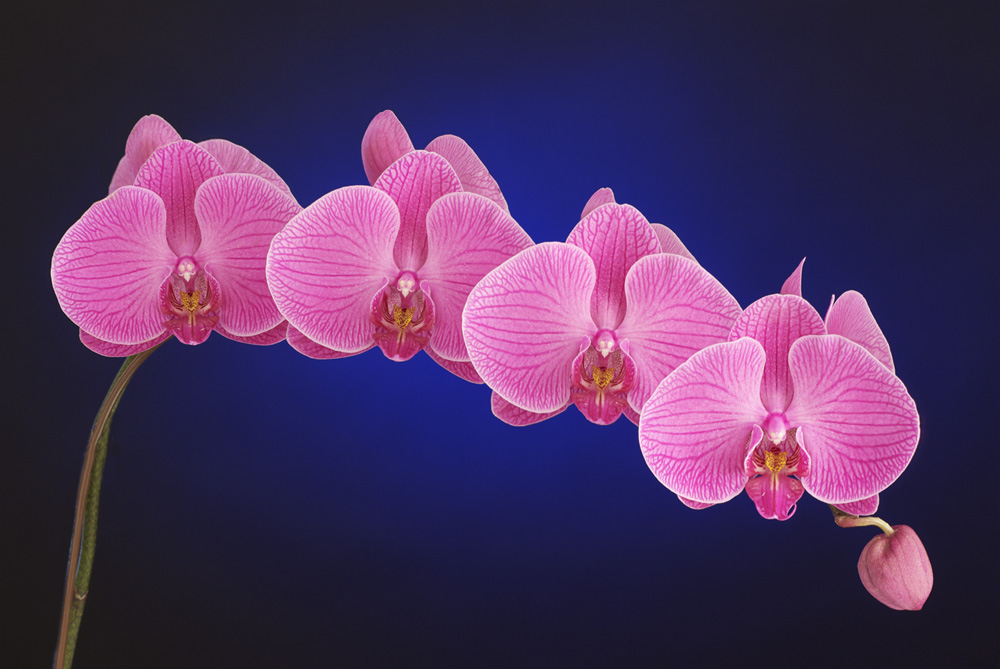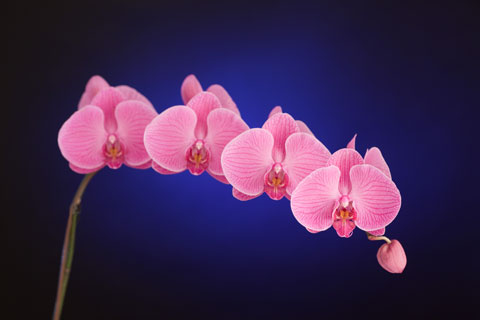 The large Orchid image is a focus stack of 48 combined images. It was captured using the Extended Length Macro rail and StackShot controller.
The small image is the first image in the stack. As you can see the depth of field for a single image is very limited.
Many thanks to Bob Coates for the use of his images.
The Extended Rail
If you are already a StackShot user you can use your existing StackShot controller with the StackShot Extended Macro Rail - no software updates or modifications are required. The extended rail will work with either the single axis StackShot or the StackShot 3X. If you already have a StackShot the StackShot Extended Macro Rail. is available without the StackShot controller.
Keep in mind when creating a focus stack that is the full 200 mm that you will loose the periphery of the image as the rail moves from back to front.
The extended rail, like its shorter cousin is made from black anodized aluminum and stainless steel rails and fasteners.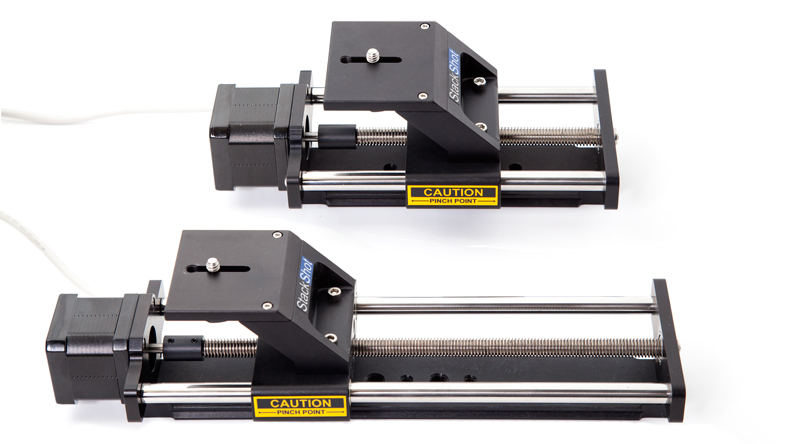 Focus Stacking Modes:
Click or tap a mode to see StackShot's behavior.
Automatic: (Auto-Dist)
Use the FWD and BACK buttons to adjust the rail's start/stop position. Enter the distance of each step. Then go!
Total Distance:
Select the total distance you want the rail to travel along with the number of steps desired in that distance.
Manual Step:
A button press is required to move the rail the specified distance. Only one step occurs for each button press. Useful for cameras with no electronic shutter release.
Distance Per Step:
Similar to Total Distance, except that you enter the distance desired for each step, and then the number of steps.
Continuous:
Move the camera the specified distance without stopping in steps.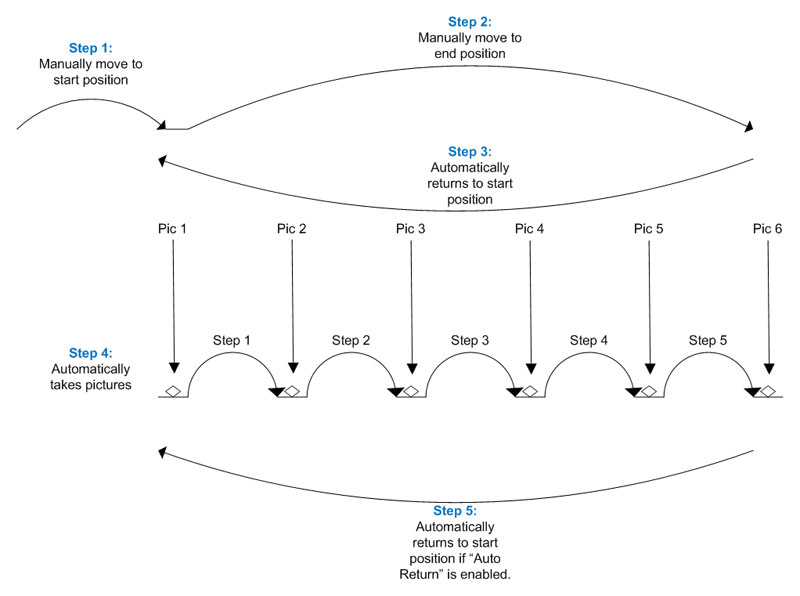 Macro Rail Highlights
Fully automated - Controller handles the coordination of the rail and the camera
Standard macro rail has 100 mm of travel from end to end, the Extended Rail has 200mm of travel.
Very precise control - to 2um in high precsion mode.
Guide rails and ACME threaded rod made from stainless steel
Constructed from lightweight 6061 aluminum
Durable matte black anodized finish
Stainless steel fasteners throughout
No lubrication required - helps keep dust and dirt off guides and shafts
Capable of moving virtually any camera and flash setup - the rail will lift a 10lb (4.5kg) load vertically
Light weight 2.4lb (1.1kg)
Base includes 3 different tripod mounting options. 1/4-20 threads, 3/8-16 threads, or ARCA style dovetail mount
Controller Highlights
USB equipped for computer control or updating firmware
Durable extruded aluminum housing
4 line LCD display with adjustable back-lighting
Adjustable motor torque - turn down the torque to save on battery life
Adjustable macro rail speed
Configurable auto return - the rail will return to the start after the captures are complete
Configurable settle time in between captures
Capture multiple photos at each step (exposure bracketing or mirror lockup)
Includes a time lapse mode for capturing time lapse stacks
Shutter output disable to facilitate easier camera setup
Optional battery power for field shooting, operates at 12VDC
Ten presets - Save up to ten different setups and recall them as needed
Shutter disable feature allows a preview of Stack without actually taking pictures
Includes 6ft cable from motor to controller - can be extended if required
Controller is easily held and operated with one hand
Change the lighting or exposure and run your last stack with a single button press
Compatible with StopShot shutter cables
Focus stacking of live subjects is possible if you have a cooperative subject. This focus stacked image of the Green Darner is a great example and was captured by Steve Gettle.
StackShot Results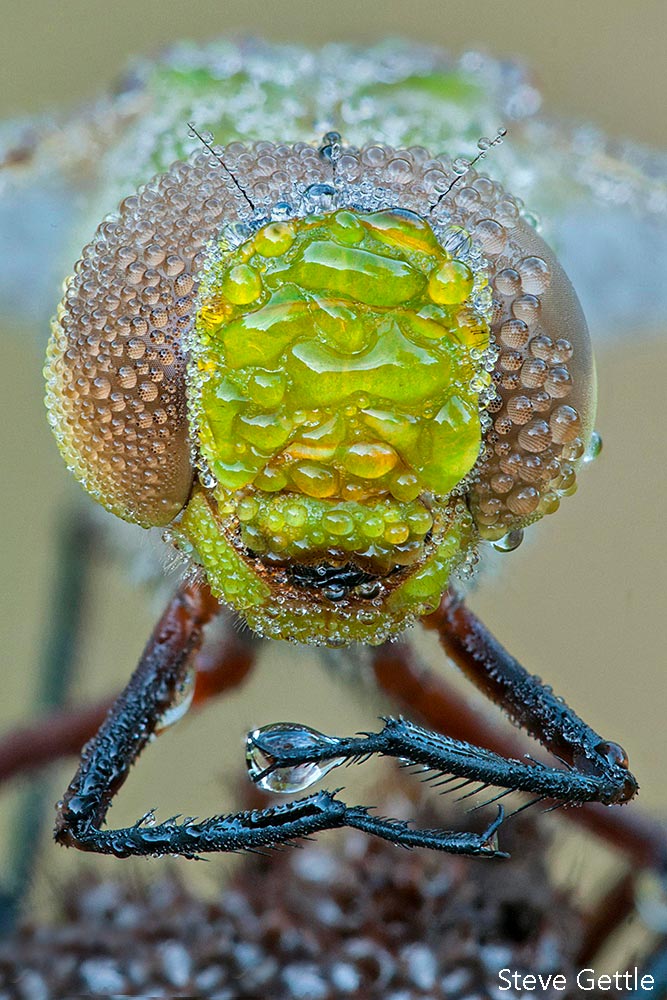 Reviews
FAQs
Top Customer Questions and Answers (FAQ)
Do I need a shutter interface cable for my StackShot Macro Rail?
Our shutter cables provide an interface between StackShot and your camera. On one end of the cable is the connector that fits the remote shutter port of your camera and the other end of the cable has the connector to interface to StackShot. It is possible to put StackShot into manual mode and press the shutter button between each step; this is a bit more tedious than letting StackShot control your camera shutter automatically but it can be done. It is also possible to let the PC control your camera and StopShot via two USB ports, in this scenario a shutter cable is not necessary. This mode of operation will prevent you from using StackShot in standalone mode (not attached to a computer). The same shutter cable will work for both StackShot and StopShot. Additional StackShot compatible shutter interface cables can be found
here
.
Can I control StackShot with my computer?
StackShot is equipped with a USB connection can be controlled with your computer if you have Zerene Stacker or Helicon Remote. You can find more details and connection diagrams
here
.
If I am going to control my StackShot Macro Rail with my computer do I still need the StackShot Controller?
Yes, computers are not equipped with stepper motor drivers. The StackShot controller includes both a USB interface to communicate with the computer as well as a stepper motor driver that is required to move the motor.
What are the advantages and disadvantages of the Extended Macro Rail?
The biggest advantage of the Extended Length Macro Rail is the increased range of motion. The Extended Macro Rail adds another 100mm of movement over the standard rail. The disadvantages of this rail are its increased size and weight; this becomes important if you plan to do a lot of shooting in the field with your StackShot system. The Extended Macro Rail maintains the same accuracy as its smaller cousin so it can still be used for extremely small subjects. If you do plan on doing mostly higher magnification work >10x we recommend you stick with the shorter rail as it is more rigid than the extended rail.
Can I use StackShot in the vertical orientation?
Absolutely. StackShot has been verified to maintain its specified accuracy in the vertical position with a load of 4.5kgs (10lbs). The 4.5kg limit is very conservative as we have several customers exceeding this limit without issue.
I am trying to use StackShot with a camera exposure time over a 1/2 second and StackShot moves before the exposure is complete. How do I fix this?
There are a couple of ways to configure StackShot for longer exposures. The first is to change the Toff parameter in StackShot to exceed your exposure time. This will add an additional delay to the sequence to give the exposure time to complete before StackShot moves on to the next step. The default option for Toff is 0.5 seconds. The other option is to put your camera in bulb mode and allow StackShot to control the exposure time using Tpulse. In this configuration the time you enter for Tpulse will be the exposure time, StackShot will then wait Toff (500 mS default) and then start the next move.
Have additional questions about ordering and shipping?
Visit our general
FAQ
page.
Specs
Dimensions
| | |
| --- | --- |
| StackShot Controller Dimensions (L x W x H) | 120mm x 103mm x 31mm |
| StackShot Macro Rail Dimensions (L x W x H) | 200mm x 86mm x 80mm |
| Macro Rail Travel | 100mm |
| StackShot Extended Macro Rail Dimensions (L x W x H) | 300mm x 86mm x 80mm |
| Extended Macro Rail Travel | 200mm |
| Macro Rail Base: Hole Dimensions | Download Drawings |

The Extended Rail Dovetail Base length is 260.35mm (10.25") with the hole pattern centered on the base.
This hole pattern is identical to the standard rail (see above drawing).


Field Weights
| | |
| --- | --- |
| StackShot Controller: | 0.34kg (12.0oz) |
| StackShot Macro Rail (standard length) | 1.12kg (2lb 7.4oz) |
| Controller Carrier Kit (including Wimberley Arm) | 0.28kg (9.9oz) |
| Battery Kit (not including charger) | 0.26kg (9.2oz) |
| Total Weight * | 2.0kg (4.4lbs) |

* - Add 0.24kg (8.6oz) for the Extended Rail


Electrical Specification Summary
| | | | | |
| --- | --- | --- | --- | --- |
| Specifications | MIN | NOM | MAX | UNITS |
| Operating Temperature | -20 | 25 | 50 | C |
| Input Voltage | 11 | 12 | 16 | Vdc |
| Input Current - (12Vdc in) | - | 120 | 2000 | mAdc |
| Shutter Output Current Sink - Continuous | - | - | 1 | Adc |
| Shutter Output Max Voltage | - | - | 32 | Vdc |
Support
How To
Accessories
---
You May Also Be Interested In: