StopShot Water Drop Photography Kit
This kit contains everything you need to capture photographs of water drops and water drop collisions. The kit includes the following.
StopShot controller
High Precision Water Valve with matched nozzle
Mariotte Siphon
Mini Beam Sensor and mounting hardware
Tripod mountable bracket for holding the siphon and water valve up
Power supplies for both the Water Valve and StopShot
PC to RCA Cable
6ft RCA cable
The mounting hardware for this kit is all made from flat black anodized aluminum. The main bracket is 12" (305mm) long and has three tapped holes for a 1/4-20 tripod mount.
Features
About the StopShot - High Speed Photography Controller
StopShot is a flexible timing module made specifically for taking high speed photographs. With StopShot you can create photos like you see below without having a degree in electrical engineering. All you need is a camera with the BULB exposure setting, an external flash, and the StopShot electronic trigger module. With StopShot you can use a variety of triggers to fire up to three independent electronic devices (flashes, cameras, valves, etc.) at virtually any delay you choose. You can even set it up to do time lapse photography. Click the How To tab to find out what is possible with StopShot.
StopShot Features:
Fully programmable 3 channel camera trigger for high speed photography.
Trigger up to 3 external devices including: flashes, cameras, water valves, solenoids, or any other low voltage electronic device.
Several flashes can be fired simultaneously from one Trigger - check out the Flash Splitter.
Easy to read 4x20 LCD Display with adjustable back-lighting.
StopShot will save your settings between power cycles. No lost setup info.
Programmable to perform sequential triggering for complicated triggering sequences.
Timers can be adjusted to be manual (on button press), sequential, or event based.
Timers can be configured to ignore trigger events for a programmable amount of time (blanking time).
Time Lapse Photography Mode.
Sound activated triggering. Just add the microphone.
Adjustable gain for microphone or analog sensors.
Sensor input will accept digital or analog input.
Laser power can be turned off after trigger to keep laser light out of photos.
Long exposure control of shutter for night-time or astro-photography.
One touch Shutter lag measurement capability.
Each trigger can generate multiple pulses, great for multiple drops or multiple exposures.
Camera "Sync" mode to make synchronizing the flash with your camera's shutter easier.
Up to 10 presets for user stored settings. Give your setup's custom names and store them for later use.
Auto Increment - A programmable auto increment time increases trigger delay for every event.
Sequential mode timeout for taking pictures with an unattended camera.
Simple 4 button interface.
Durable extruded aluminum housing.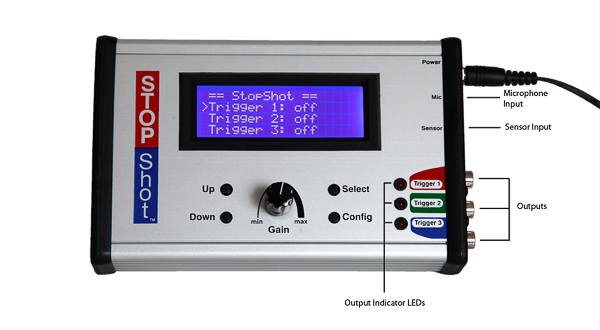 FAQs
Top Customer Questions and Answers (FAQ)
Is it ok to use other fluids in the system other than water?
Yes, a big part of water drop photography is water chemistry. Adding coloring or thickeners to the water is not a problem and often adds a lot to the end results. Using other liquids like milk is also fine but a good thorough flushing is recommended after use. We would however recommend you stay away from solvents with any type VOC's.
Do you have any water drop tutorials or videos?
Yes, you can find 5 pages of water drop tutorials starting
here
, as well as wiring diagrams for connecting multiple flashes. The tutorials start off with basics and end with very advanced 3 valve techniques.
Can I automate the entire process and have StopShot fire the camera as well as the flash and water drops?
Absolutely, but you will need a
shutter interface cable
to fire your camera. This cable goes between the StopShot output and the camera remote shutter port. For water drop photography we generally recommend you start off in a darkened room with StopShot firing the water valve and flashes and controlling the camera manually in bulb mode. Setup without the camera is much easier and will let you get up and running taking images of water drops much quicker. Once you understand the timing and settings of StopShot add controlling the camera into the mix.
My water valve has become clogged or has a slow leak - what should I do?
If your valve develops a slow leak or the slow becomes restricted it likely just needs a good cleaning. Try purging the water valve by holding down the "DOWN" button on StopShot and if this doesn't work you can find teardown and cleaning instructions
here.
Have additional questions about ordering and shipping?
Visit our general
FAQ
page.
Specs
| | | | | |
| --- | --- | --- | --- | --- |
| Specifications | MIN | NOM | MAX | UNITS |
| Input Voltage | 6 | 7.5 | 14 | Vdc |
| Input Current- No sensors (9Vdc in) | - | 75 | 100 | mAdc |
| Output Current Sink | - | - | 1 | Adc |
| Sensor Supply Output Voltage | 4.0 | 4.5 | 5.0 | Vdc |
| Sensor Supply Output Current | - | - | 100 | mAdc |
| Max Voltage on Trigger Out Port (Steady State) | - | - | 60 | Vdc |
| Timer Tolerance @25C (Standard Module) | - | 1 | - | % |
| Timer Tolerance @25C | - | 50 | - | Ppm |
| Operating Temperature | -20 | 25 | 50 | C |
• Fully programmable 3 channel intervalometer.
• 4x20 LCD Display with adjustable blue backlighting.
• Powered by a high-speed Freescale Digital Signal Processor
• All outputs are open drain (Can be used for Flash Trigger or Shutter Trigger).
• Microphone Input for standard electret microphone.
• Input sensor jack with external power for IR LED's, Lasers or other 5Vdc loads.
• Outputs have enough current capability to energize relays or electronic valves (Outputs
are protected from inductive loads).
• All outputs short circuit protected.
• Accepts DC Input 2.1mm power jack.
• Simple 4 button interface.
• Adjustable gain for microphone and sensor inputs.
• Standard 3.5mm microphone jack.
• RCA output cables (easy and affordable to extend).
• Durable extruded aluminum housing
Support
How To
Accessories
Gallery
Customer Images Created with the StopShot Water Drop Kit
---
You May Also Be Interested In: