StackShot 3X Virtual Object Creation Kit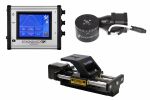 This kit includes everything you need to get started creating 3D virtual objects. Creating virtual objects is normally a very time consuming task, The StackShot 3X Virtual Object Kit enables you to automate the process. Included is all of the hardware required to do Stack - Rotate - Stack tasks. The kit includes the following:</p (1) - StackShot 3X Controller
(1) - Stepper Motor Enabled Standard or Length Macro Rail (select below)
(1) - Cognisys Rotary Table
(2) - Locking motor cable (2m)
(1) - 2A AC Adapter
(2) - 3/8"-16 to 1/4"-20 threaded adapter
(1) - Neoprene Storage bag for rotary table

You will also need a shutter interface cable to control your camera from StackShot 3X. Choose below.

If you already have a shutter cable from StackShot or StopShot it will also work with the StackShot 3X.
Reviews
Specs
| | | | | |
| --- | --- | --- | --- | --- |
| Specifications | MIN | NOM | MAX | UNITS |
| Input Voltage | 12 | 12 | 24 | Vdc |
| Input Current (12Vdc in) | - | 150 | 6000 | mAdc |
| Input Current–Power-saving modes active | - | 50 | - | mAdc |
| Shutter Output Current Sink | - | - | 1 | Adc |
| Operating Temperature | -20 | 25 | 70 | C |
| | -4 | 77 | 158 | F |
• ARM Processor
• 3.5" color TFT LCD capacitive touch screen display – great in direct sunlight!
• Dual shutter outputs, one which includes half-press/full-press functionality
• Remote trigger input
• All outputs are open drain (Can be used for Flash Trigger or Shutter Trigger)
• Simultaneous 3-axis motion control (6A DC power supply or battery required)
• USB for control and reprogramming
• Wireless connectivity: 802.11a/b/g/n 2.4GHz
Support
How To
Accessories
Virtual Object Kit Accessories:
---
You May Also Be Interested In: